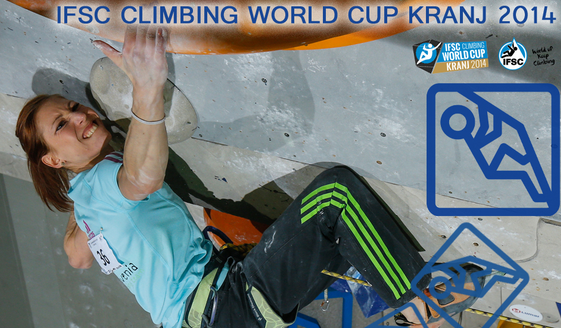 The 2014 IFSC World Cup season will wrap up in Kranj, Slovenia on November 15-16, with a Lead competition. Kranj will be the determining factor in the overall Lead World Cup rankings and the last chance for our athletes to taste World Cup glory this year!
Three weeks after the last IFSC Lead World Cup in Inzai, Japan, our athletes are returning to Europe for one final competition and one last chance to lay it all on the line for a World Cup medal in Kranj, Slovenia.
Close race for silver in the overall rankings
Last month in Inzai, Japan, Jain Kim (KOR) and Jakob Schubert (AUT) locked up the overall World Cup victory. The overall rankings are calculated by adding up all the points corresponding to a climber's results in each World Cup, minus the points from his or her worst performance.
A World Cup victory accords 100 points to an athlete. As of the Inzai World Cup, Kim and Schubert lead by so much that even if they have their worst result in Kranj and the climbers currently ranked second win the competition (and thus gain 100 points in the rankings), they will still come out on top of the overall ranking after the subtraction of that climber's worst result.
The race for second place, however, is quite close for both men and women. For men, Romain Desgranges (FRA) currently holds second place with 414 points, followed closely by Sean McColl (CAN) with 397 points and Domen Skofic (SLO) with 379 points. Even Adam Ondra, currently ranked fifth with 332 points, could take second if, by a stroke of luck, he wins and the other climbers have particularly bad days.
For women, the race is particularly tight, with Magdalena Röck (AUT) currently ranked second with 501 points, followed by Mina Markovic (SLO) with 494 points. Both climbers have performed consistently well this season.
Markovic may have an advantage competing in front of her home crowd, but one thing is sure, the competition will be exciting to watch! Anak Verhoeven (BEL), currently ranked fourth with 447 points, is still in the running for the overall bronze, as even a win and a very poor performance from Röck would only leave her with 500 points, after subtracting her worst result.
Be sure to follow the excitement in Kranj this November 15-16, for the exciting conclusion to a historic 2014 season!
2014 OVERALL WORLD CUP RANKING – LEAD/PROGRAM
More information on the event, as well as live streaming of the semi-finals and finals on: http://www.ifsc-climbing.org