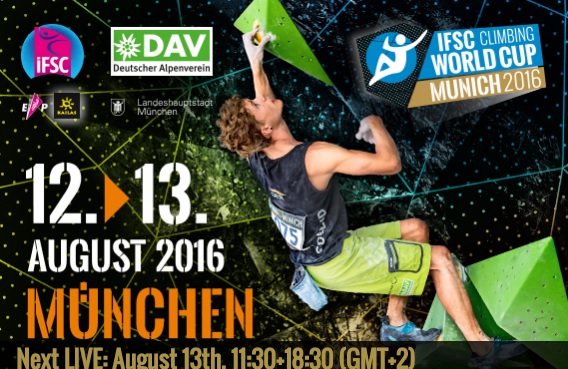 The best Bouldering athletes in the world will compete at Olympiapark in Munich this weekend for the seventh and final IFSC Bouldering World Cup of 2016.
Customary Curtain Closing Munich has concluded five IFSC Bouldering World Cup of 2016 series since 2010. In 2014, the third most populous city in Germany attracted more than 6,000 Sport Climbing fans to the grand Olympic Stadium – host of the 1972 Summer Olympics – for the IFSC Bouldering World Championships. This year, the tradition continues on August 12th-13th with a new cast of elite Bouldering talent.
Coxsey, Japan Set to Steal Show
Shauna Coxsey has won four World Cups this year. In June, the Bouldering queen sealed her first place finish in the IFSC Bouldering World Cup rankings with a Silver in Vail. When not congratulating the British star, supporters in Munich will be following the other four women in contention for the Overall medals. Miho Nonaka is having the best season of her IFSC career, and the nineteen-yearold
can improve on her third-place finish last year. Japan teammate Akiyo Noguchi and Melissa Le Neve of France will hope to join her on the podium. While she will need nothing short of Gold in Munich to finish among the top three, expect Monika Retschy of Germany to not be short on applause in front of her home crowd.
For the men, the strong athletes from Japan currently control the rankings. Kokoro Fujii has accumulated more points thus far than any other man, but a glance at the 2016 IFSC Rules reveals Tomoa Narasaki holds a slight edge (according to item 11.7.4.b, athletes competing in all seven competitions this year may drop their worst result). Alexey Rubtsov and Rustam Gelmanov of Russia have both won Gold this season and could shake things up in Munich. Also keep an eye on the young Yoshiyuki Ogata of Japan. The eighteen-year-old impressed in Vail at his first World Cup Finals and could make his first podium on Saturday.
Visit the dedicated Munich event page to access start lists, 2015 replays and further event information, and don't forget to review the current IFSC Bouldering World Cup rankings below before the rubber leaves the mat.
Stay Tuned
Tune-in to the IFSC website for live streaming of the Semifinals and Finals:
www.ifsc-climbing.org
You can reach out on Twitter during the competition with the hashtag #IFSCwc.
IFSC WORLD CUP (B) MUNICH (GER)
Provisional Program (GMT+2)
Friday, August 12
08:00-14:30 Qualification Men
16:30-19:00 Qualification Women
Saturday, August 13 (LIVE)
11:30-14:00 Semi-Finals Men & Women
18:30 Finals Men & Women
21:30 Award Ceremony
Further info:
IFSC Bouldering World Cup of 2016
facebook.com/sportclimbing