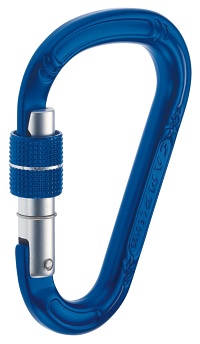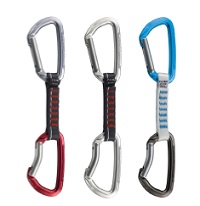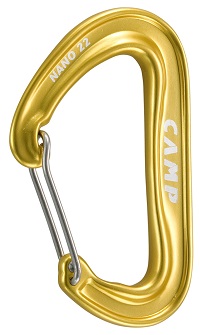 When carabiners are the talk of the day, CAMP. holds sway: this is seen in their technical level and the wide gamut of models. C.A.M.P.'s "Workshop of ideas" has always paid great attention to these tools, with meticulous care for their design, assembling them and, therefore, their functionality. Chasing lightness is a case in point: CAMP. paved the way, in fact, thanks to its famous 33-gram item back in 1987, and continues with the Photon and Nano 22 models to this day. More classic products, such as the HMS Lock and the Orbit – veritable best sellers the world over and liked by both professionals and amateurs – are a testament to C.A.M.P.'s interest in carrying out a thorough task. As far as carabiners ar
e concerned, this equals to outstanding performance, but most of all the utmost safety.
CAMP HMS Lock
Large screw gate carabiner designed for belaying and rappelling with either a
Munter hitch or standard belay device. Keylocking closure eliminates snagging.
Available polished or blue.
Weight 78 g
CAMP Nano 22
Following the Nano Wire and Nano 23, the new Nano 22 is even lighter, stronger, and more functional. The Nano 22 features a new design that is 1 kN stronger in all three of the strength ratings. The Nano 22 is the lightest fullyfunctional
carabiner on the market with unique attributes that set it apart from other smaller carabiners. Like an inner working space large enough to use a clove hitch with ropes of any diameter, a gate opening wide enough for easy clipping on the sharp end, a profiled nose that slips in and out of tight chain links, and 8 colors for racking cams.
Weight 22 g
CAMP Orbit Express
The ultimate utility draw. Two compact and lightweight Orbit keylocking carabiners connected by 16 mm polyester dogbones pack a punch at any sport crag. Available in 11 and 18 cm lengths. Weight 101 g.
INFO: CAMP