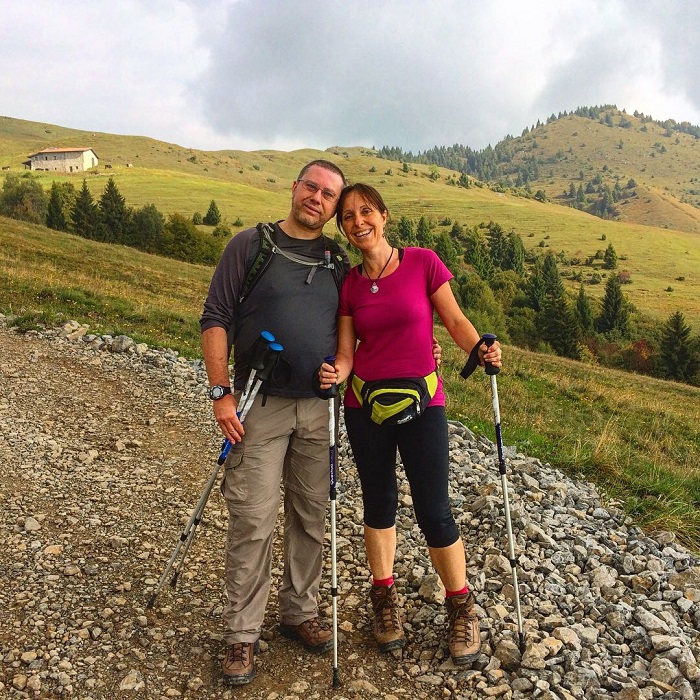 After finishing with success in only 100 days, 2300 kms of the "Walk from the Italian town of Bergamo to Santiago" by foot, this winter we have decided to put ourselves to the test again by returning to South America for a new "challenge". We will travel the "Greater Patagonian Trail" (GPT for friends): a trekking route not marked and undertaken by a few fearless walkers which represents the longest walk of South America linking Ushuaia (Terra delFuego, Argentina) with Santiago del Cile, through Patagonia and the Ande Mountians. We will be the first Italian couple to travel the "Greater Patagonian Trail": a walk, an expedition, an adventure , to achieve a dream and allow others to dream with us.
Who are we?
Marco and Laura, are a couple that 12 years ago have decided to change life or better their reason for living, well before "downshifting" was born. After their marriage in 2005, they left their jobs and moved to the Prealpi Orobie mountains to achieve their dream: to explore this fantastic place called "earth" In these years they have wandered "backpack on their shoulders" across South-East Asia , South America… in an independent and slowness way , to experience the spirit of each place and enjoy the extraordinary experience that only the absolute freedom can donate. In 2015 we decided to achieve a long-cherished dream: to travel the "Santiago Walk" (the traditional French walk) 790kms that made us fall in love with long walks in general and with the arrival in Finisterre, it set forth our passion for this type of experience. In 2016 we decided to travel the Portuguese walk finishing again in Finisterre (490km). The pilgrimage walk was without doubt the most profound experience – from the Italian town of Bergamo to Santiago a 2300 km route talking about prevention and raising funds for the purchase of equipment for the Oncology ward: a project born which came from the heart and was completed with a huge success
They have decided to take up this challenge relying on Lowa for their boots.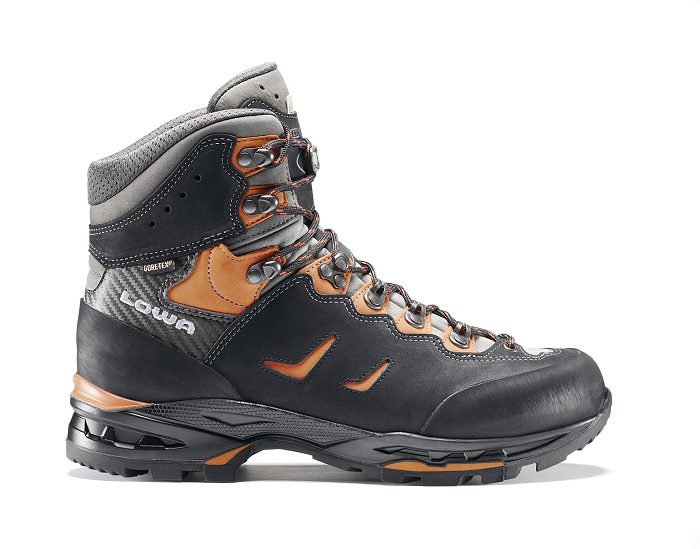 CAMINO GTX for Marco
The benchmark for trekking fit and comfort. The upper is designed with LOWA Flex® lacing which allows the laces to easily pull through the ball bearing lace loops that are set on free moving tabs, reducing overall pressure against the foot. Durably waterproof/breathable. The utmost in comfort and perfect fit – that's what allows you to really enjoy long treks and mountain tours. The trekking boot CAMINO GTX® lives up to that challenge with its innovative "LOWA Flex" system that perceptibly eases the movement of the foot and increases the boot's comfort. This trekking boot features an upper of 2.2 mm nubuck leather with soft and supple leather trim at the instep. The waterproof GORE-TEX® lining provides optimal temperature regulation. Achieve optimal heel positioning with the proprietary Lace Loop technology with freely moving lace hooks at the ankle, all integrated into a two-zone lacing system that secures your heel in place for perfect fit and comfort. The detailed midsole construction increases stability and comfort and secures your foot positioning, whilst the tread profile of the Vibram® outsole "Apptrail" increases the surface contact area. Excellent grip with a self-cleaning tread design and a pronounced front heel edge for best downhill traction.
LADY LIGHT GTX for Laura
This boot was designed for women with sensitive feet who are looking for a great trekking boot with more room in the metatarsal area. In addition, the one-piece upper has no interior stitching, while the flat ribbon lace loops lie flat to prevent pressure along the instep. Made on a women's-specific last. When women head out on longer trekking tours or are out and about on demanding hut-to-hut hikes, comfortable feet are an absolute priority. That is exactly what this technical and easy-wearing woman's trekking boot offers. It is designed with all of the special needs of a woman's foot in mind, from a special last to the especially buttery soft cuff, from the deeply notched back for calf freedom to a roomier toe box. Built with modern construction methods, this technical yet flexible boot of nubuck leather wins you over with its impressive lightness and high comfort. Extremely limited seaming in the forefoot limits the possibility of pressure points and abrasion. The X-Lacing system allows perfectly individualized shoe fit with evenly distributed pressure that guarantees a sturdy and secure fit. The LOWA Trac Lite outsole offers the best grip and good roll-through on varying surfaces on and off trail. A two-layer PU midsole combines high stability with effective cushioning. At the same time, the waterproof, breathable GORE-TEX® lining ensures comfortable temperature management in practically any weather condition.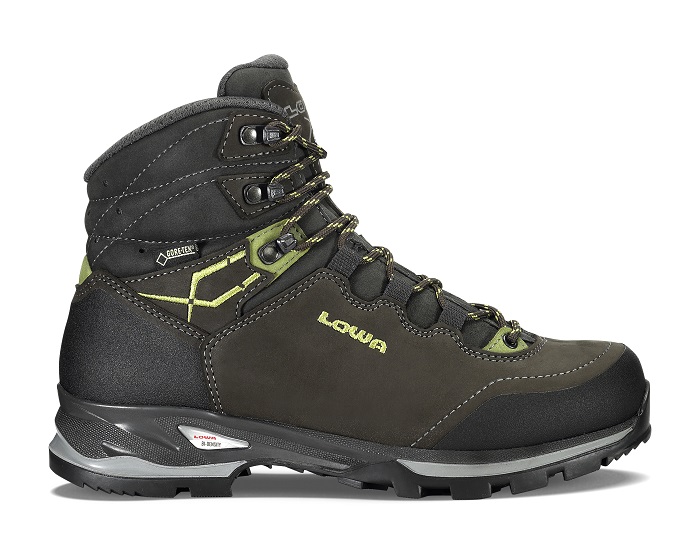 And now ? The Greater Patagonian Trail
The GPT (short for The Greater Patagonian Trail) is the longest trekking route of South America, approx. 4000kms through the Terra del Fuego, the Patagonia Chile and Argentina, the Ande Mountians. Still unknown and travelled by few, the GPT is a mix of trails, tracks, muleteers that allow you to cross this wonderful, uncontaminated, area of the planet. Breathless landscapes , hikes in high quota, tracks to discover, rivers to wade across, peaks to climb; in complete autonomy, sleeping in tents and cooking outdoor and with some visits to civilization for supplies and so to update our blog and share it with our followers this fantastic adventure. Fundamental is the ability to adapt, a knowledge in navigation techniques, the ability to live in self-sufficiency for weeks without external support: the only link is our GPS capable to send our position with simple text messages , in case of need or to alert the rescuers.
Goals
After our last walk, travelled with the noble and altruistic objective, we realized that to have a goal that goes beyond the kilometers crossed gives and extra spirt and helps you in those difficult and wavering moments that one always encounters during long and demanding challenges. We have decided to take advantage of this expedition and bring to the attention of the people that are following us , some topics we consider important.
Dream, with us
During our walk ""Cammino from the Italian town of Bergamo to Santiago", a part from speaking about prevention and lifestyle a lot of people walked with us for one or more stages, physically and virtually on our blog and through our facebook page Many of these people have repeatedly told us that they "had dreamed with us". Reading our diary, seeing our photos made them understand that a project that seemed impossible had become reality, in that moment they had dreamed or maybe just for one moment, we had helped them in their illness difficulties. Our walk has inspired and allowed people with and without illnesses, to walk virtually with us and to dream through us. This has emotionally motivated us very much. Now we want to make you dream!
In contact with nature
During our expedition in Patagonia we will be in contact with a wonderful nature for its diversity: an environmental heritage to respect and preserve so that the future generations can appreciate it as much as us. Our commitment for the respect of the territory is summarized in "Leave No Trace" which we will try to apply throughout the months we will spend in Patagonia. Through our photos and our travel journal , we will raise awareness about these faraway places hoping to make you fall in love with this beautiful gift: nature and to arouse the desire to appreciate, respect and protect it. Filtered bottles, Burners, solar panels with rechargeable batteries, biodegradable soap and methods to reduce the environmental impact are all topics which we will deal with in-depth so that you can begin to adopt them in your small adventures.
For many but not for everyone
Those who have had the chance to know us, personally or virtually, have understood that we are no super- athletes and and neither super-Heros : we are just a couple in their forties in good health that are following ones dream or adventures with perseverance and dedication. Too often people don't even try to start a small-adventure because they believe that it is only for super heros; the most important message that we want to share with you all, is that if we can do it so can you!! At the beginning you could need a mentor, but as soon as you realize your potentiality no-ne will stop you!
"No-one"
Marco e Laura
INFO: Lowa