"From tyres to soles". MICHELIN-branded soles enter the technical soles market as a new leader bringing innovative added value to the world of footwear. This initiative offers a unique formula to develop exclusive soles in partnership with strategic, high-performance brands, sharing the same values, desire and knowledge to bring innovation and tangible advantages to consumers in different target segments.
Tyres and shoes share the same vocabulary: footprint, sole, tread, rolling, stability, rubber and fabric. It is here that MICHELIN gets in the game by making the latest technologies available and sharing their technical innovations with JV International, the global strategic partner chosen by MICHELIN for the design, development and manufacturing of high-performance MICHELIN-branded soles, thanks to their long experience in technical footwear.
MICHELIN is more than an ingredient brand, but a strategic technological partner to develop high performance soles, linking MICHELIN know-how in "ground contact" with the competence of the partner brand.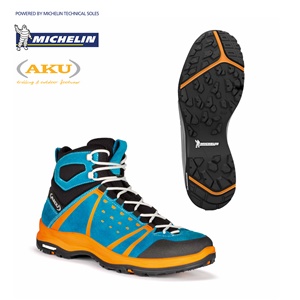 MICHELIN PULSAR FOR AKU, THE ULTRA-RELIABLE MULTITERRAIN SOLE
Developed exclusively for AKU, the new MICHELIN Pulsar Technical soles is the product of a close collaboration between a team of skilled footwear specialists. Drawing on MICHELIN's own extensive ground contact expertise, the MICHELIN Technical Soles designers worked hand-in-glove with AKU management to create an all-round high performance product that adapts easily to all kinds of terrain and conditions, making it a real "must have" for outdoor enthusiasts.
The combination of the MICHELIN Technical Sole and the AKU Elica-Natural Stride System, which accommodates the foot's anatomy and biomechanics to support the natural inclination of the heel and forefoot, results in more even weight distribution on the sole of the foot both as it lands and pushes off again.
The MICHELIN Pulsar sole was developed to accommodate the Aku Elica- Natural Stride System, with an asymmetric design for ground contact in line with the natural stride axis. It takes its inspiration from the MICHELIN Wild Grip'R Descent mountain bike tyre which itself was developed for downhill cycling on mixed terrain, with progressive lateral grip and a motocross-derived tread pattern. All in all, it's a good test bench for a sole made to tackle all kinds of ground surfaces, something it can accomplish effectively thanks to deep grooves that boost adaptability to very different kinds of terrain. In addition, the sculptures are positioned in irregular groups to focus on the areas of greatest stress. Smaller and more aggressive sculptures under the big toe deliver progressive traction, while aggressive shoulder sculptures improve lateral traction and stability. Bridge reinforcements also achieve the same for stability and wear resistance. Massive sculptures at the heel boost braking ability. A high distance ratio between the sculptures also facilitates self-cleaning, while two flexion channels make for greater flexibility when the foot is rolling.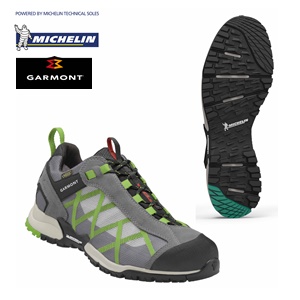 MICHELIN CROSS TERRAIN FOR GARMONT: A SOLE COMPLETELY AT HOME ON A VARIETY OF TERRAIN
A light, practical shoe that provides the ankle with complete freedom of movement, yet grips and protects the foot for a combination of comfort, security and reliability. That's the Mystic Surround, the latest addition to GARMONT's hiking boot line-up.
Versatile and multifunctional, the Mystic Surround is perfect for outdoor enthusiasts with an active lifestyle as it features a MICHELIN Technical Sole and was developed through close partnership between the R & D departments of both companies.
The MICHELIN Cross Terrain sole is inspired by two mountain bike tires: the MICHELIN Country Rock, designed to excel on hard ground such as asphalt, cement or hardpack trails, and the MICHELIN Country Trail, its counterpart for mixed terrain, trails and grass. The resulting sole is thus perfect for different types of surfaces, including rough terrain on which it delivers both stability and traction.
Four sections of irregular sculptures spread in a semicircle under the forefoot to simultaneously provide lateral grip, traction and ground contact. Special grooves also break up the sculptures to make the sole more flexible. The midfoot area has a series of specific sculptures which guarantee stability when tackling obstacles. They are positioned widely; to improve traction offer efficient self-cleaning.
The new Mystic Surround (low cut) is available in a choice of two colour combinations for men (grey/green and coffee/ginger orange) and in an attractive coffee/teal green combination for women, but it is also available on a mid cut in different colours.
FOOTWEAR DESIGNED AROUND THE FOOT'S ANATOMY
The GARMONT A.D.D concept, which considers the foot's anatomy and how it relates to the upper, played a large role in the technological development of the Mystic Surround. The result is a design that adapts to the foot's own asymmetries and boosts its natural ability to maintain stability, absorb shock and produce effective thrust. This technology involves variable tongue design and thickness, heel containment for improved ankle stability, calibrated flexion of the shoe for comfort, and enough room for the toes, particularly the big toe. The end result translates into better balance and thrust.
GORE-TEX® SURROUND® TECHNOLOGY
Another noteworthy feature of the Mystic Surround shoe is the use of GORE-TEX® SURROUND® technology for 360° comfort. This creates footwear that is entirely breathable but also features incredibly durable waterproofing. Thanks to ventilation outlets, both moisture and excess heat can escape rapidly, keeping feet dry and comfortable even in high temperature conditions.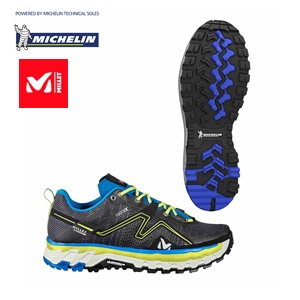 MICHELIN MONT BLANC DEVELOPED WITH AND FOR MILLET
The MILLET Alpine Rush was designed and developed specifically for Ultra Trail long-distance running at high mountain altitudes.
The upper is made from , an innovative new technical fabric made of nylon and kevlar with a water-repellent PU treatment, ensuring that it both allows the foot to breathe and keeps out moisture. The dual density EVA semi oversize midsole provides an amazing ride while reducing fatigue and risk of injuries with an excellent comfort on all types of grounds.
The real "engine" is the sole developed specifically with and for MILLET. The designers of MICHELIN Technical Soles have worked in partnership with the MILLET footwear division management team: it offers excellent traction, support and comfort yet adapts effortlessly to changing terrain.
The new MICHELIN-engineered MICHELIN Mont Blanc sole's name alone is a high-altitude promise, one that delivers the advantages of the MICHELIN Cyclocross Mud 2 tyre, designed specifically for cyclo-cross racing on very variable terrain that often features long muddy or very slippery stretches, with the performance of the motocross-derived MICHELIN M12 XC tyre, which has a tread pattern with extra plies to tackle mixed and hard-packed ground.
The result is an extremely reliable sole that guarantees safe, secure traction on all types of surfaces – everything from stony to dusty, to grassy and wet rocky stretches.
The sole delivers a brilliant combination of functions in one sleek package. To start, multifaceted sculptures on the longitudinal axis boost adaptability to different terrain and siped sculptures on the forefoot make for exceptional adherence while back at the heel, further siped sculptures deliver impeccable braking and adaptability. Strong sculptures on the shoulders boost both traction and lateral support, while centre bridge between the sculptures reinforces the ground contact area, dissipating impact and protecting the foot from microtrauma. This highly specific design combined with the Outdoor Compound guarantees great stability on uneven ground as well as impressive abrasion-resistance thanks in good part to chamfers that cut the risk of sculpture wear and tear. Overall the sole delivers a high performance marriage of optimal traction and support.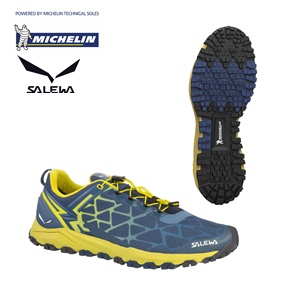 SALEWA MULTI TRACK IS MADE FOR MOUNTAIN TRAINING
The Multi Track is a hiking, running and mountain biking shoe that uses a weight-saving hybrid design that combines the stability of a hiking boot with the shock absorbency of a running shoe. The forefoot sole section is specifically designed to make it fully compatible with mountain bike (MTB) flat pedals, thanks to the distribution of a low sculpture tread design for high contact surface. Features include unburdened sculpture to increase adherence and stability, while massive siped sculpture on shoulder gives stability while maintain lateral adherence. Specifically developed dynamic base allows better training activities. In addition, rubber heel counter reinforce and protect the upper . Inspired by the MICHELIN Starcross HP4 motocross tyre, the tread pattern ensures a secure connection and prevents slipping, while making no compromises on comfort and walkability. Performance is enhanced by a special tread design, aggressive sculptures and hardwearing, grippy MICHELIN Outdoor Compound for optimal traction and good abrasion resistance in uneven terrain and on hard-packed soil.
The lightweight, cushioning construction with TPU injected inserts offers extra stability, especially in steep terrain and on slopes. Further key features include: quick lacing for fast adjustment and no snagging in the chain and an Ortholite footbed which provides long-lasting cushioning and inhibits the growth of odor-causing bacteria.
The Multi Track is available in two colour variations for men and two colour variations for women and two GORE-TEX® versions for men and one GORE-TEX® version for women.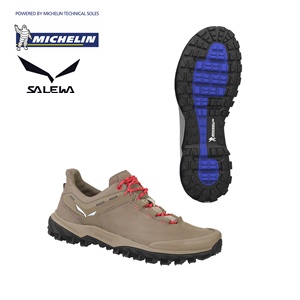 SALEWA WANDER HIKER FEATURES A "SOFT" SOLE
As the name implies, the Wander Hiker is designed for hiking. One of its major innovations is a "soft" sole that perfectly adapts to the midsole, and by doing so, adapts to varied terrain. It is inspired by two MICHELIN mountain bike tyres, the MICHELIN Wild Rock'R2 and the MICHELIN Country AT. Features include: a wave base that increases adaptability and shock absorption; siped massive sculpture on shoulders for optimum stability; small sculpture on the shank for adherence to obstacles and uneven terrain; massive heel sculpture for braking; and siped sculptures to increase adaptability and adherence. It also uses hardwearing, grippy MICHELIN Outdoor Compound for optimal traction in uneven terrain and hardpack soil, and good abrasion resistance.
INFO: MICHELIN