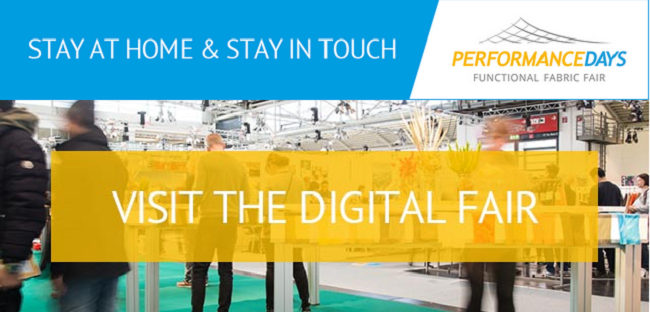 Although it is not possible to meet in person this week in Munich, PERFORMANCE DAYS is still going to take place – as Digital Fair.
See at a glance all features of the complimentary DIGITAL FAIR:
EXPERT TALK WEBINARS
Join the free webinars on APR 22-23. Sign up now.
SUPPLIER WORLD
Meet the suppliers digitally, see their latest products and order samples.
PRODUCTS FINDER
5000+ products for you to filter and find your perfect product.
FORUM FABRICS
Check the 240 curated fabrics which are all sustainable.
FORUM ACCESSORIES
Find the latest trends in accessories picked by the Jury.
PERFORMANCE AWARDS
There are two awards this edition for the most sustainable highlights.
FOCUS TOPIC
Learn all about by the theme INSPIRED BY NATURE- FROM FIBERS TO GREEN TREATMENTS.
SPORTSFASHION by SAZ
Exclusive pdf dossier for more product details available online on APR 30.
INFO: PERFORMANCE DAYS