Comprehensive testing by the mountaineering sports industry on old, used via ferrata sets has shown that used via ferrata sets with rope brakes may fail in the event of a fall. The tests showed that impact forces may be increased during a fall. When combined with used webbing arms with a reduced breaking strength the system may fail. This can lead to serious injury or death. In order to prevent any risks to users, EDELRID has decided to recall all affected sets as a precautionary measure. Please stop using the affected products immediately. For details of the sets affected, see the attached list.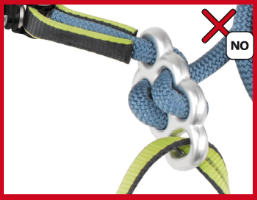 All private owners of a via ferrata set affected by the recall that is less than seven years old are requested to return it immediately either to directly to EDELRID or to a specialist retailer for forwarding to EDELRID. In return, you will receive a CABLE LITE 2.2 via ferrata set as a replacement. This set con forms to the latest requirements of the German Alpine Club (DAV) Safety Commission and the certification bodies. In addition, there is also the option to upgrade to a more expensive model from this new generation for a surcharge.
Via ferrata sets older than seven years have reached their maximum service life and must no longer be used. These older sets should be withdrawn from use – regardless of model and design type. EDELRID urgently requests that these older sets are destroyed. EDELRID assumes no responsibility for products that have exceeded their maximum service life.
EDELRID wants to ensure that these older sets are no longer in use. EDELRID is therefore offering owners of an older via ferrata set from 2005 or earlier the opportunity to trade in their old set for a new EDELRIDvia ferrata set at a special price.
For more information concerning the reshipment, the replacement or the special price offer for old sets (older than 2005)please consult the attached Frequently Asked Questions (FAQ).
Distributors and operators of rental pools are urgently requested to collect all via ferrata sets affected by the recall. They should be securely stored to ensure that they can no longer be used. EDELRID ask you to immediately return these via ferrata sets to us. For details of shipment processing, see the attached information. Details concerning reshipment are attached.
Retailers are requested to collect all new sets affected by the recall and send them separately to EDELRID. You will receive information regarding returned merchandise from consumers from EDELRID sales department or distribution agents.