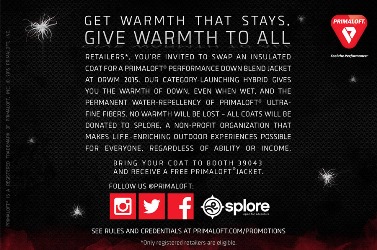 Building upon the success of the launch of its Performance Down Blend products, PrimaLoft, Inc., the world leader in providing comfort solutions with high-performance insulations and fabrics, will host the PrimaLoft Retailer Coat Swap at the ISPO Show 2015 in Munich, to help homeless people stay warm this winter.
Retailers are invited to PrimaLoft's booth hall A6-304 to trade their slightly-used winter coats/jackets (no matter which material) for a new PrimaLoft® Gold Insulation Down Blend jacket (as long as stock last). PrimaLoft will donate the returned coats to "Obdachlosenhilfe St. Bonifaz in Munich", a convent that supports homeless people.
"The PrimaLoft Coat Swap makes it easy for the retail community attending the show, to help those less fortunate people to stay warm," said Jochen Lagemann, Managing Director Europe & Asia at PrimaLoft. "We appreciate the opportunity to give back to a good cause in Munich, the city that hosts the ISPO Show every year, and our European headquarter."
Show attendees can track the progress of the coat swap each day at a PrimaLoft demo point, east entrance, near hall A6, where donated coats will be placed. PrimaLoft is hoping to see the level of donated coats increase significantly throughout the duration of the ISPO Show.
PrimaLoft® Insulation Down Blends feature a patent-pending blend of PrimaLoft® permanent water repellent, ultra-fine denier fibers and the highest quality water-repellent, fluorocarbon-free treated premium down. PrimaLoft ® Gold Insulation Down Blend has comparable warmth in construction to 750 fill power goose down, retains more than 95 % of warmth when wet, and dries four times faster than untreated down. Since its launch in Fall/Winter 2014, PrimaLoft® has doubled the number of brands using PrimaLoft® Performance Down Blend for FW 2015.
Further information about the PrimaLoft® Retailer Coat Swap (official rules): http://primaloft.com/promotions