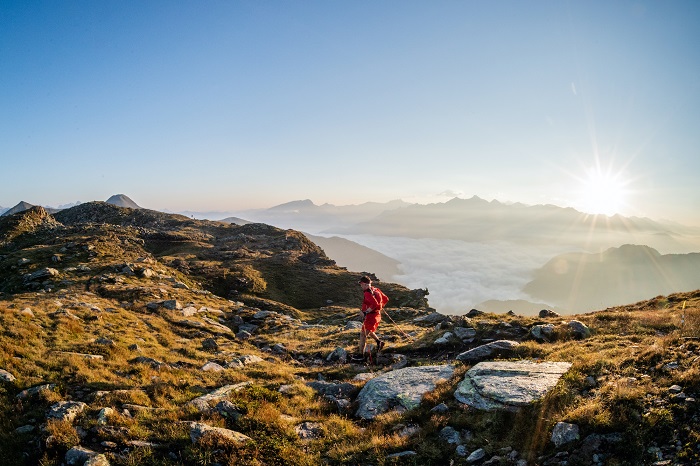 The eighth edition of the extreme mountain race along the Hufeisen tour in the Sarntal Alps will take place from 27 to 29 August 2021. From 1 September anyone interested will be able to register for the Südtirol Ultra Skyrace on the official website www.suedtirol-ultraskyrace.it .    
The organizers will continue with the proven race program of the past years and offer four different distances with different degrees of difficulty. The Südtirol Ultra Skyrace, one of the most challenging and technically difficult extreme mountain runs in the world, is 121 kilometres long. On the legendary Hufeisen tour in the heart of the Sarntal Alps, the participants have to master no less than 7554 metres elevation gain. The race starts on Friday, 27 August at 7:00 pm at the Piazza Walther in the town centre of Bolzano. The athletes then have 40 hours to complete the extreme mountain run and complete the race finishing at Prati del Talvera in Bozano.
Just over half as long is the Südtirol Skyrace (69 km/3930 m altitude differential) that starts on Saturday morning (28 August), almost at the same time as the Südtirol Sky Marathon (42 km/2863 m elevation). From the South Tyrolean capital the trail runners set off on a steep stretch to Corno del Renon and then via Forcella di Sarentino to Chiesetta del Morto, where the long descent to Sarentino village centre starts. While the (mountain-) marathon runners enjoy the celebrations of their top sporting achievement in the main town of Val Sarentino, the participants in the Skyrace break for refreshments before racing up to Auener Jöchl pass and on to the stone cairns, down to the Alp Möltner Kaser and via Salto back to San Genesio. From there, it is another challenging 5 kilometres steep descent to the finishing line on Prati del Talvera in Bolzano.
The shortest distance (27 km/1027 m elevation), the Südtirol Sky Trail, will take place for the third time next year. Traditionally, the start gun is fired in the presence of numerous onlookers, in an excellent atmosphere in the village centre of Sarentino. The route is the same as the second section of the Südtirol Skyrace and is ideally suited for all athletes who are starting out on trail sport and would like to gain a first experience in mountain running.
Registrations  for the three-day event dedicated to mountain running in the heart of South Tyrol are now open via the official websites www.suedtirol-ultraskyrace.it . Until 31 December registration for the Südtirol Ultra Skyrace costs 140 euros; participation in the Südtirol Skyrace costs 90 euros.  Participants in the South Tyrol Sky Marathon pay a registration fee of 60 euros, while the starting place for the South Tyrol Sky Trail costs 40 euros.
INFO: Südtirol Ultra Skyrace