Envirotrek 2013 from Respect the Mountains on Vimeo.
On Sunday the 24th of August, the 9th event of the Envirotrek Series 2014 took place. 31 people collected 23 bags of garbage and other trash from the surroundings of Great Langdale. It was the second Envirotrek in Lake District, organized by Respect the Mountains in cooperation with KEEN Footwear.
In the morning participants gathered at Wainwrights Tarn. Three different groups went out in search of rubbish and 230 kg of garbage was collected. All sort of things were found; A lot of old iron, plastic, glass, candy wrappers and paper. Even a big compost bin, a complete double bed (including all springs), part of an old railway and a pair of hob nailed boots were found.
After the morning Clean Up, the participants enjoyed a BBQ for lunch. The most enthusiastic garbage collector won a pair of hiking shoes from KEEN Footwear. Three other enthusiastic collectors were also rewarded prices. In the afternoon participants could go climbing on the local rocks, do a canyoning route through Stickle Ghyll or work on their bush craft wilderness skills. All activities provided fun opportunities to enjoy the beautiful nature of the Lake District even more!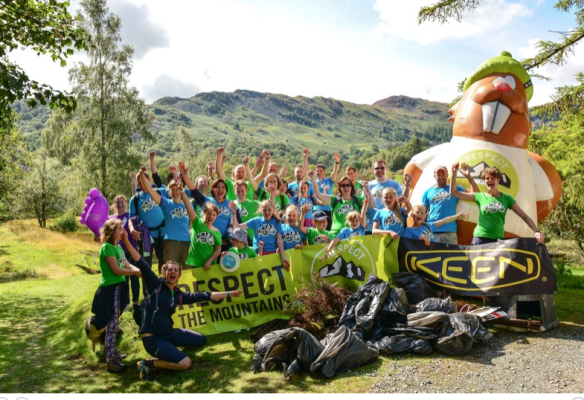 Envirotrek was organized with the help of main sponsor KEEN Footwear and Barefoot Wines and Bergans of Norway. Local partners were: Lime 7 events & training, The Langdale Hotel & Spa, Open Mountaineering and the National Trust.
Envirotrek is an event series with three focus points:
1. To deliver crucial mountain clean up hours;
2. To promote positive mountain awareness; and
3. To build community through cooperation and networking.
It is an all age event that is fun, educational and one that makes real impact in fragile mountain environments. The basic Envirotrek structure:
Morning – Mountain cleanup. Participants are equipped with safety equipment.
Lunchtime – delicious barbeque and community building through networking
Afternoon – adventurous mountain activity (skill development, experience, fun and an opportunity to enjoy what the mountains offer through active mountain sports)
Info: Respect the Mountains