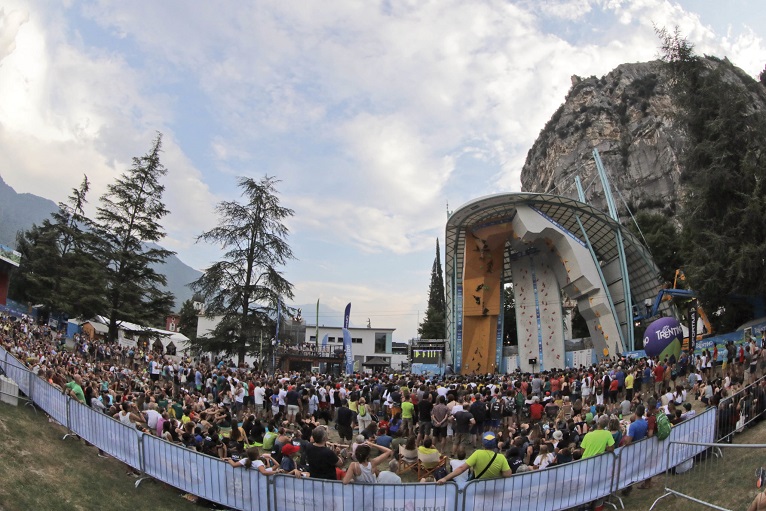 Friday July 29 is time for the 35th edition of Arco's Rock Master. World's best climbers are coming to the Climbing Stadium. A full day of KO Boulder and Lead Duel O.C. Rock Master 20.20 leader in experience and expertise.
If it ain't broke, don't fix it! The O.C. Rock Master 20.20 is strongly firm on what to give audience and athletes for a spectacular day of climbing.
In 2022 too, world's best climbers are competing, on Friday July 29. along Climbing Stadium's walls in Arco (Trentino, Italy), in both KO Boulder and the epic Lead Duel, this proposed for the first time in 2000.
2021 Rock Master was an historic event: not only because combined formula made its appearance for the first time, but also due to the ex aequo between the Slovenian Vita Lukan and the Austrian Jessica Pilz in the combined final ranking. As far as boulder was regard, Laura Rogora (ITA), 2021 Lead World Champion, got the first place, while among men the multi-champion Adam Ondra (CZE) was the best. The Slovenian Mia Krampl won the Lead Duel among women; among men Stefano Ghisolfi (ITA) and Michael Piccolruaz (ITA) took over Adam Ondra, who got anyway the first place in the combined ranking, achieving his sixth Rock Master Trophy.
The 35th edition coming in three months is a special edition where audience will enjoy the show on the 350m2 wall, in the shadow of the stunning Mount Colodri.
Tickets pre-sale will be available online from June. The president Stefano Tamburini together with his staff will soon reveal more details and the names of the greatest "spidermen" coming to Arco.
INFO: Arco's Rock Master