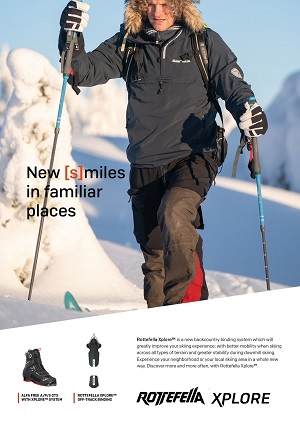 Rottefella is proud to announce the launch of Rottefella Xplore™ with boot launch partners, Alfa and Alpina.
Rottefella Xplore™ is a new backcountry binding system which will greatly improve your skiing experience; with better mobility when skiing across all types of terrain and greater stability during downhill skiing, giving you an increased sense of confidence and enjoyment of backcountry skiing.
"We are excited to launch the Rottefella Xplore™ binding system this fall with our boot launch partners, Alfa and Alpina. Rottefella has enabled people to reach the north pole, traverse their local area, go deep into the woods and up the hills. We continually innovate to meet the needs of everybody wanting to explore the outdoors. The Rottefella Xplore™ system is our newest innovation. It is a new binding system designed to enhance stability, provide better comfort and increase mobility," says CEO of Rottefella, Torstein Myklebostad.
ALFA and Rottefella were honoured with the Scandinavian Outdoor Award on 1. Feb. this year for the Rottefella Xplore™ system and the Alfa Free A/P/S GTX boot. The jury in the Scandinavian Outdoor Awards states that "The system offers easy step in and out, light weight, unrestricted range of motion and lateral stiffness, which is unparalleled in the touring ski category. This will help users take full advantage of touring ski capabilities in any condition".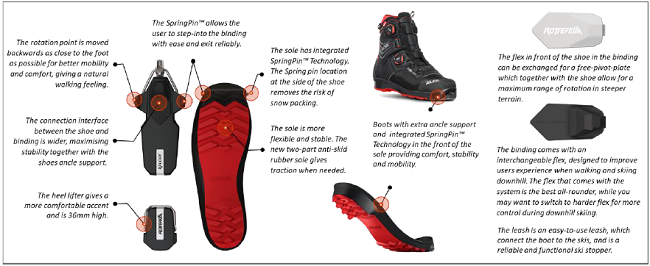 "We believe Rottefella Xplore™ will inspire many existing and new skiers to find the pleasure of skiing out of the tracks. Rottefella Xplore™ can be used for short or long trips, for exercise or for smiles as the goal. Rottefella Xplore™ is about exploration of new areas and re-exploration of your own neighbourhood or local skiing area. We want to inspire you to get outdoors to discover more and more often", says VP Strategy, Innovation and Marketing, Tanja Øglænd in Rottefella.
INFO: Rottefella