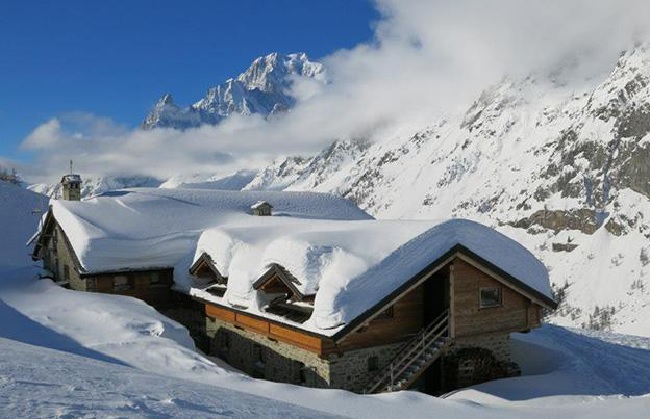 With adventure tourism growing worldwide, people are increasingly looking for new and original ways to spend the holidays. For those longing to spend a truly unforgettable New Year's Eve, a mountain hut "lost" in the Alps can be the perfect choice and a great way to start 2018 on the right foot.
Magnificent views, a hearty meal and the company of people from every corner of the world will reward the efforts of those who dare celebrate "out of the box". And the expertise of a certified mountain guide will definitely add to a memorable (and safe!) experience.
Explore-share.com promotes mountain trips led by professional guides. Users can, for example, hire a guide to take them up to Rifugio Bonatti (2025m), one of the most famous mountain huts in the Alps, which can be accessed from the Italian resort of Courmayeur. It is always a great option for those looking for a friendly atmosphere and a great meal to welcome 2018. Or, for those seeking a little more solitude, Refuge de Loriaz (2020m), which can be reached from Vallorcine, in France, could be a good choice.
For families with children, Refuge de la Ferme du Tornieux (1450m) is a fun option: on the first day of the year, they'll get to sled back down into the town of Sallanches on a 5-km path. And, if all this weren't enough, users could even decide to build their own igloo and start the New Year under the stars!
A local certified guide will lead the way and ensure that everything is taken care of for a truly memorable night. Read a more complete guide to spending New Year's Eve in the Alps on the Explore-Share blog.
About us: Our online booking platform lists more than 2800 mountain trips in more than 50 countries, all of them led by over 750 certified mountain guides. The company is based in Belgium, Chamonix, Argentina & Japan.
Created in 2015 by the two belgian mountain enthusiasts Gauthier Poncelet and Nicolas Vandepaer, Explore-Share's mission is to make mountain experiences available to a broad public: from avid rock climbers to powder addicts, and from first-time hikers to families with children. There is something for everybody.
Because safety is a top priority, only professional, certified guides are featured on the platform. Most of them are IFMGA-certified (International Federation of Mountain Guide Associations), widely accepted as the most rigorous certification in the world. So you'll be in safe hands!
The site lists many off-the-beaten-path adventures, including hiking tours in the easternmost corner of Russia (Kamchatka), ski tours in the northern Japanese island of Rishiri, backcountry ski trips in Iran or mountaineering trips in the Ala Archa valley in Kyrgyzstan.
INFO: Explore-share.com