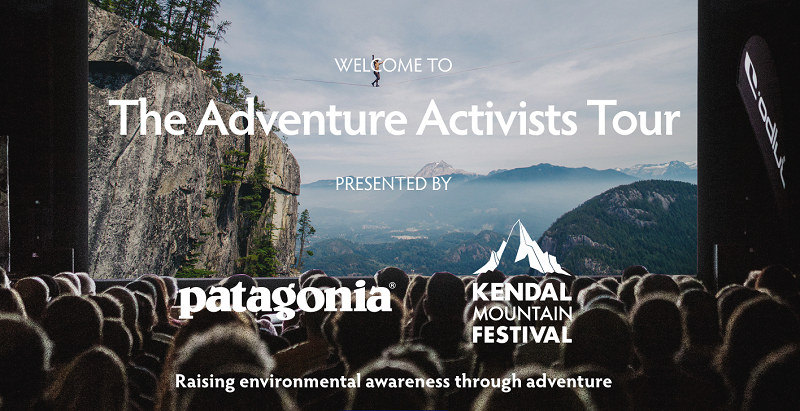 Presented by the Kendal Mountain Festival in partnership with Patagonia the Adventure Activists Tour will visit four UK locations this Autumn, culminating at the Kendal Mountain Festival in November.
Guests are invited to enjoy inspiring stories and eye-popping films of exploration from some of the world's most acclaimed environmental adventurers this October and November. By opening discussions, it's hoped each event will encourage positive change to environmental threats through better understanding on both a local and global scale.
The 2017 tour will involve a series of two hour events with each event including talks by two adventurers interspersed with inspiring films. Tickets will be priced at £8 / £6 concession for the first three locations and will be available via www.adventure-activists.com with the final stop available as part of the full Kendal Mountain Festival programme.
Tour dates include:
London – 5th October. 8 – 10.30pm
Ellis Brigham Covent Garden, WC2E 7HA
Manchester – 23rd October. 7 – 9.30pm
Manchester Climbing Centre, M12 5ND
North Wales – 25th October. 7 – 9.30pm
Memorial Hall Betws-y-Coed, LL24 OBB
Kendal Mountain Festival – 18th November. 2 – 4pm
Kendal Town Hall, LA9 4DL
Speakers: Adventure Activist Tour speakers are change-makers, setting out to transform opinion and instil environmental change. Overflowing with first-hand stories of their incredible explorations their accounts will captivate and inspire. Speakers include:
Sarah Outen – London + Manchester
British adventurer and author who has looped the world on human power alone. A 4.5-year journey by land and sea, full of adventures and surprises. Having spent months alone at sea – she has witnessed the devastating impact plastic pollution is having on our planet.
Jack Harries – London
Jack Harries began filmmaking through JacksGap, an online blog and video project that was born from a love of travelling and telling a good story. Through the success of his blog and video projects, Jack realised he had the opportunity to raise awareness of environmental issues and now campaigns against climate change.
Rok Rozman – North Wales + Kendal
Olympic rower turned environmentalist Rok Rozman is leader of The Balkan Rivers Tour, gathering kayakers and water lovers together to raise awareness for 2,700 dam projects planned for the Balkan Peninsula, a pristine system of wild rivers runs between Slovenia and Albania.
Dan Yates – North Wales
Dan Yates is an avid kayaker and one of the founding members of the Save our Rivers charity, whose aim is to keep the UK's rivers flowing freely.
Rick Ridgeway – Kendal
One of the world's most accomplished mountaineers and explorers. Rick has explored six continents, directed documentaries and films, and written several books. He was part of the first American team to summit K2 and has been honoured with National Geographic's "Lifetime Achievement in Adventure" award. In 2005 Rick joined Patagonia as Vice President of Environmental Affairs.
Presented by  Kendal Mountain Festival in partnership with Patagonia, to book tickets and find out more please visit: www.adventure-activists.com