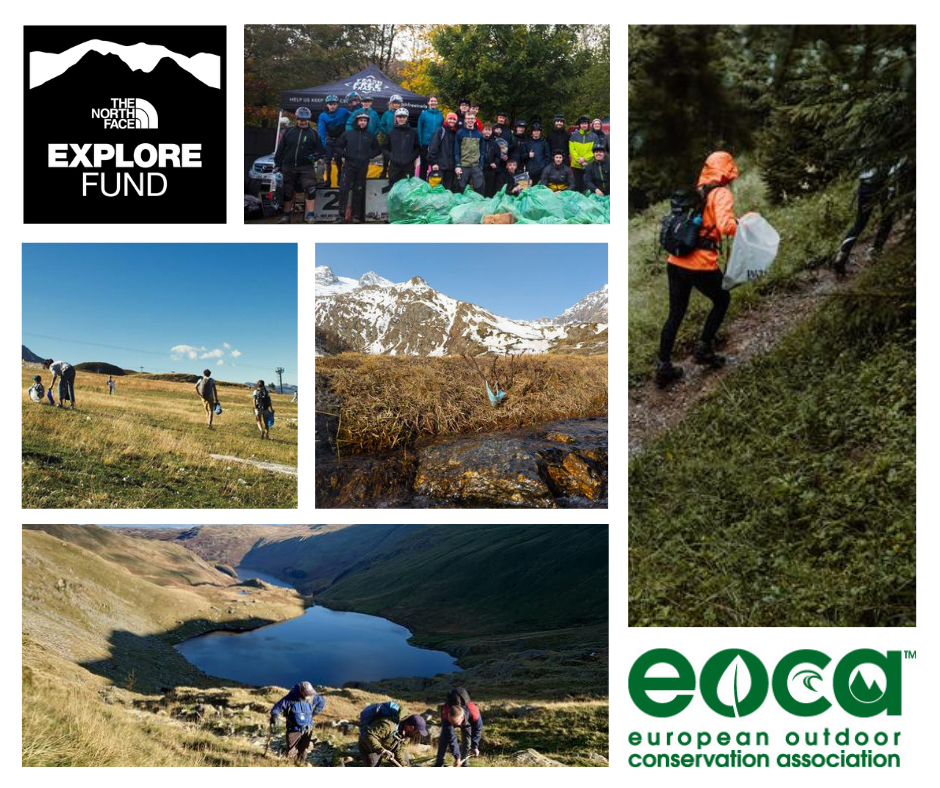 Once again The North Face (TNF) is getting actively involved in conservation; using the European Outdoor Conservation Association (EOCA) to help locate relevant conservation projects tackling habitat clean-ups.  The North Face Explore Fund will support five projects in four countries across Europe to the tune of €218,000 and EOCA is delighted that, for the third year running, TNF has chosen the Association to find, assess and manage the projects on their behalf. All projects have a primary aim of restoring wild spaces by actively reducing the plastic pollution that is endangering them.
The projects to be funded are as follows:
Zero Waste Mountain, with Mountain Riders, France: will provide 100 cleaning to resorts in the Alps, Pyrenees and Jura mountains and undertake 180 clean-up events during 2022 and 2023, engaging 6-8,000 volunteers.
The Plasticfree Peaks CleanUP Tour 2022, with Patron, Germany & Austria: will organise 10 x 3-5 day clean-up events across the German and Austrian alps, aiming to 5,000 participants in its clean-up actions.
CleanALP – Protect and clean our mountains, with The European Research Institute, Italy: will hold 40 clean-up events, involving 2,000 people on trails, alpine lake shores, creeks, grasslands, and screes, engaging Alpine huts to build a strategy to reduce of plastic in alpine environments.
Fell Care Days, with Friends of the Lake District, UK: mass-participation volunteering events will empower communities to actively take part in conservation through litter picks, tree planting, rhododendron bashing and much more. This project will include the Great Cumbrian Litter Pick, a further clean-up event at the Kendal Mountain Festival, and a Fell Care Day.
Let's Do It Ourselves (DIO) – Protecting and Enhancing our Outdoor Playgrounds, with Trash Free Trails (TFT), UK: This project will carry out a 9-Stop Tour at some of the UK's most iconic mountains, forests and river trails, engaging communities to become self-sustaining stewards of their outdoor playgrounds. 
Julian Lings, Senior Manager, Brand Sustainability, TNF said," Plastic pollution continues to be a threat to wildlife and habitats, and one that TNF is serious about tackling. Amongst other issues, it can cause entanglement of wildlife, contaminate soil and ground water, and ultimately cause long-term damage to important ecosystems. This is something that we all, as outdoor enthusiasts, can get involved in and help to reduce the amount of plastic and waste damaging our wild places."
Cat Barker, Conservation Project Coordinator for EOCA said, "We are truly delighted with the faith placed in us again by TNF to help find relevant and vitally important conservation projects to support. We are all living through an era where habitat conservation is imperative to the survival of our planet, and consequently ourselves – biodiversity loss and climate change are crises that we must not ignore. It is heartening to see EOCA members recognising that they too can play an important role in addressing these issues through proactively funding entire projects."
More details on all these projects can be found at this link.
INFO: European Outdoor Conservation Association (EOCA)