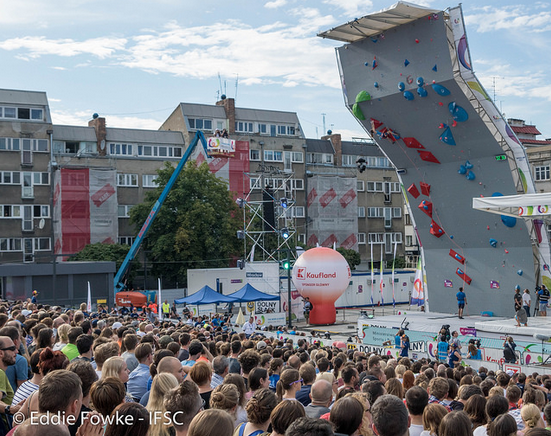 A packed crowd watched the final round of Sport Climbing at The World Games 2017 in Wroclaw, Poland, featuring the most elite Lead climbing athletes from around the globe. Keiichiro Korenaga of Japan and Anak Verhoeven of Belgium both matched the high points in finals and won on countback to qualifications.
Japan adds two medals, takes home most Gold
Japan tied Russia for most medals in Sport Climbing at The World Games 2017 when Keiichiro Korenaga and Yuki Hada stood on the men's Lead podium today, bringing the total to four. Korenaga's victory also gave Japan their second Gold medal in Wroclaw, making Japan the only team to win two Sport Climbing events. France finished with three medals.
Second crown for Asian Continental champion
There were several early falls in Lead finals for the men, with most athletes falling near 22 moves. Yuki Hada of Japan was one of the athletes who broke the barrier, setting the high point at 39+. His teammate Korenaga followed in kind, leaving only Romain Desgranges left to climb. The Frenchman also fell on the 23rd move, crowning Korenaga the victor on countback to qualifications earlier in the day when he climbed two moves higher than Hada. The 21-year-old is currently ranked fourth in the IFSC World Cup rankings for Lead and continues to solidify his presence on the world stage. Like his teammate Yoshiyuki Ogata, Wroclaw winner in Bouldering, Korenaga qualified for The World Games 2017 as an Asian Continental champion. PanAmerican Continental champion Sean McColl of Canada also performed well, surpassing the early crux and falling just a few moves shy of the high point for Bronze.
Verhoeven continues memorable season
There were many strong performances in the women's Lead final, with six athletes falling around move 39. Julia Chanourdie of France was third to climb and set the high point at 39+, but many finalists were to follow. Slovenian Janja Garnbret fell at the same spot, as well as Anak Verhoeven of Belgium. Korean Jain Kim climbed last and completed the same number of moves, but she failed to initiate positive movement to the next hold like the others. The tie-breaker again went to qualifications, where Verhoeven climbed five moves higher than Garnbret and six moves more than Chanourdie. Verhoeven began her 2017 season with a victory at the European Championships, and she has yet to miss a podium this IFSC World Cup season.
A true privilege for Sport Climbing
Following three days of memorable Sport Climbing at one of the most significant events in sport, IFSC President Marco Scolaris said the following:
"It was truly a privilege to work with the International World Games Association and the Organising Committee and City of Wroclaw to host such an outstanding event, which presented the best of Bouldering, Speed and Lead climbing. We're happy to have brought Sport Climbing to the very heart of the city of Wroclaw, as a true urban sport."