VAUDE calls for a restriction on dangerous PFAS chemicals
VAUDE supports the planned EU-wide restriction on the "forever chemicals", PFAS.
VAUDE has been working voluntarily for years to eliminate the use of PFAS
Since 2021, all materials for clothing, backpacks and shoes at VAUDE have been completely PFAS-free
For years, these chemicals were considered miracle-workers and were used in countless products to make them water repellent, non stick and stain resistant. PFAS (per- and polyfluorinated alkyl substances) can be found in frying pans, rain jackets, cosmetics, bakery packaging, dental floss and much more. As present as they are in our everyday lives, these hazardous substances have also spread into nature. They can accumulate in soil, water, plants, animals and humans, even in the most remote places – and this is permanent because they're not biodegradable. In addition, PFAS are harmful to health and carcinogenic. Although this has been known for years, the industry has continued to use them; there are very few manufacturers that have made an effort to find alternatives. Currently, the German government, together with four other countries, wants to restrict the entire group of PFAS substances in the EU by 2025.
"We are glad that PFAS are finally to be restricted by law and that this issue has now also reached the general public. It affects each and every one of us, no matter where we live in the world. At VAUDE, we have long been voluntarily committed to this issue and have shown that "Environmentally friendly, PFAS-free outdoor gear and apparel is possible!" says Antje von Dewitz, VAUDE CEO. Unfortunately, however, this is far from standard. "Too little is being done on a voluntary basis. Therefore, legal regulations are important in making the industry reconsider its position and in advancing the development of PFAS-free alternatives," continues Antje von Dewitz.
The planned PFAS restriction covers the entire group of substances with several thousand chemicals. "We are aware that restricting all PFASs will pose major challenges for many companies. Ten years ago, we were faced with this task ourselves and put a lot of effort into finding pollutant-free alternatives; we went through countless test series and also had to accept setbacks time and again. But it was worth it!" says Bettina Roth, Head of Quality Management at VAUDE.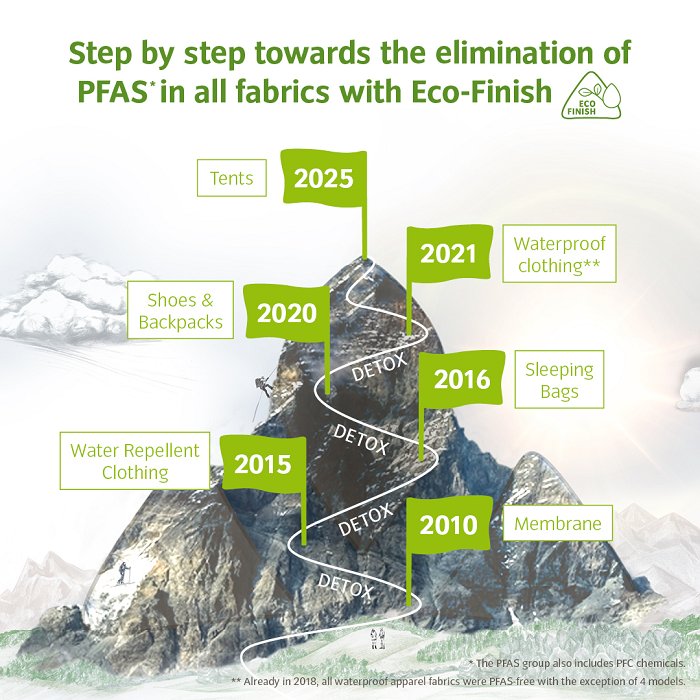 The road to PFAS-free gear and apparel
For years, VAUDE has been working diligently to eliminate harmful chemicals, for example, by eliminating the use of PFCs, which belong to the PFAS group, from manufacturing or from the entire supply chain. As the only major outdoor brand to do so to this day, VAUDE signed the rigorous Greenpeace Detox Commitment in 2016. In doing so, the company made a voluntary commitment to eliminate all harmful substances in its entire production process and to produce the entire collection with PFC-free manufacturing. VAUDE proactively operates in accordance with the precautionary principle in order to protect people and the environment. "We voluntarily search for environmentally friendly alternatives to harmful substances – even without legal requirements." explains Bettina Roth. VAUDE had already eliminated the use of PFCs in its waterproof membranes by 2010 In the following years, VAUDE succeeded in making more and more of its products PFC-free. This has applied to all sleeping bags since 2016, to footwear and backpacks since 2020 and since 2021 to all apparel fabrics. As a pioneer, VAUDE today is showing that it is feasible to treat functional outdoor products with PFC-free water and dirt repellency.
With the voluntary phase-out of PFCs, VAUDE has long been going far beyond the legal requirements. "This was an enormous challenge; we had to involve all of our partners from the chemical industry and our material suppliers in working intensively on solutions. In order to use alternative PFC-free substances, we had to change complex production processes and develop new testing methods," says Bettina Roth, Head of Quality Management. VAUDE has taken on a great deal of personnel and financial effort to achieve this. "It has shown that companies that act responsibly to advance ecological transformations are at a competitive disadvantage. We therefore welcome the political push to introduce clear legal regulations at the EU and international levels. This is the only way to accelerate innovation and find the new solutions that we urgently need for a PFAS-free future," says Antje von Dewitz.
The problem of PFAS in public focus
The dangers of PFAS have long been known. It is only now, after major media attention and discussions on social channels, that the issue has moved into broader public focus. Contributions such as the Pro7 television documentary "Thilo Mischke auf den Spuren tödlicher Chemikalien" have helped the public awareness to grow. In the documentary, VAUDE is presented as an example of "best practice" that is driving the PFAS phase-out on its own initiative. "More and more consumers are specifically looking for PFAS-free alternatives, as reported to us by retailers," says Antje von Dewitz.
Policymakers are also increasingly concerned with PFAS and value VAUDE's expertise on the issue. For example, the company was recently invited by the German Bundestag and the EU Parliament to report on how it has overcome the challenges of eliminating PFAS. Bettina Roth took the opportunity to clarify what companies can do and what the path to PFAS-free products can look like. In addition, she advocated for an exchange platform to be created between the chemical industry, companies, the supply chain, and regulators to develop new and safe alternatives to PFAS, evaluate their safety, and make them available to the industry.
More info on VAUDE's commitment to reducing the use of harmful substances:
INFO: VAUDE