Introduction
"The mountains are calling and I must go." John Muir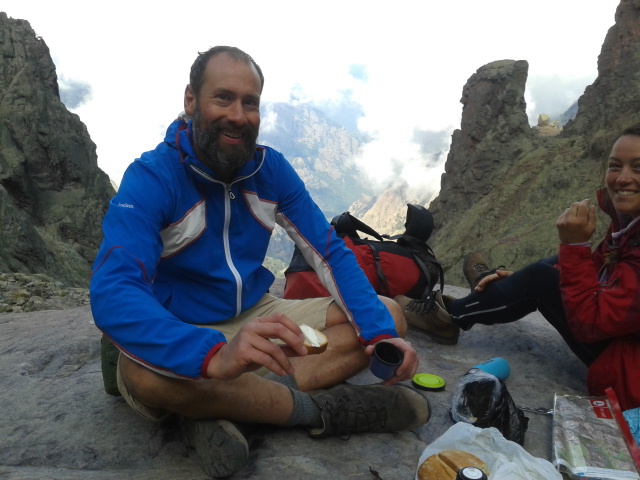 In June 2013 I walked the GR20. To many, this will mean nothing. It may even have a baffling implication, sounding as it does, like part of a postcode or a mathematical formula. To others it will open up a field of images and suggestions. And to a few they will know exactly what I mean, at least in their own way.
The prefix GR stands for Grand Randonnée. These are the sentiers or long distance hiking trails which criss-cross France and its outlying provinces – the numerical suffix indicating just where on the map it might lie. Amongst the hiking fraternity the GR20 is well known. It is, arguably, the most famous hiking trail in Europe, and perhaps the most challenging, drawing the fool and hardy from across the world to test their mettle on its summits.
The route traverses the spinal mountain range of the Mediterranean island of Corsica – that bastion of feuding and resistance, of banditry and sweet chestnut and birthplace of France's golden boy, Napoleon Bonaparte. It runs diagonally for 200 km from the north west of the island to the south east, passing through sweet smelling maquis, ancient forests of beech and laricio pine, close cropped tundra, jagged slopes of scree and blasted boulder to snow smothered peaks.
The path is divided into fifteen stages of which each normally equates to one day's tramp. At the end of each, and sometimes more frequently, lie stone built refuges of varying stages of rudiment, where one can bunk down, camp near, and sometimes restock at with supplies.
Although not technically a climb, there are long passages of tortutous scramble and places where one is hanging vertiginously. The changes in altitude are punishing, and for the whole walk account for 10,000 metres of both ascent and descent. Of course, one is also subject to the vagaries of mountain weather which, as well as including searing daytime heat (in summer) and freezing night-time conditions, also include sudden storms, enveloping mist and fierce winds. Every year the mountains claim a few for their own.
I had been introduced to Corsica more than ten years before by a friend who had its blood coursing through his veins, and was quickly seduced by its extraordinary beauty and the incredible variety of its landscapes. I had hiked there twice – the first combining a small section of the Mare a Mare route with an even smaller section of the GR20, and the second time completing the southern section (and easier half) of the GR20 from the central outpost of Vizzavona to the outlying village of Conca. But the entire route, in all its map squiggled glory, lapped at my mind like a tantalising dream, and remained for me my own personal Everest.
There was another reason for the trip. I was making a film. In 1909 the Austrian gentleman adventurer Florian Frederick Graf von Liechtenstein disappeared whilst climbing on the island. I was intent on reconstructing his last days and armed with a hand cranked cine camera which fed on 35 mm stills film and dressed as my hero in tweed plus fours, knee stockings and spotless white shirts, I set out to do just that, enlisting the help of the hapless hikers I would encounter en route…
A final word. These diaries are not intended as a route description. For that there are several publications which would serve much better. Rather, they combine description with thoughts and musings which might only focus on one or two particular events of the day. Apart from a little tidying, they were all, without exception, written in situ, generally when the sun had just risen, in the first thirty or forty minutes of waking.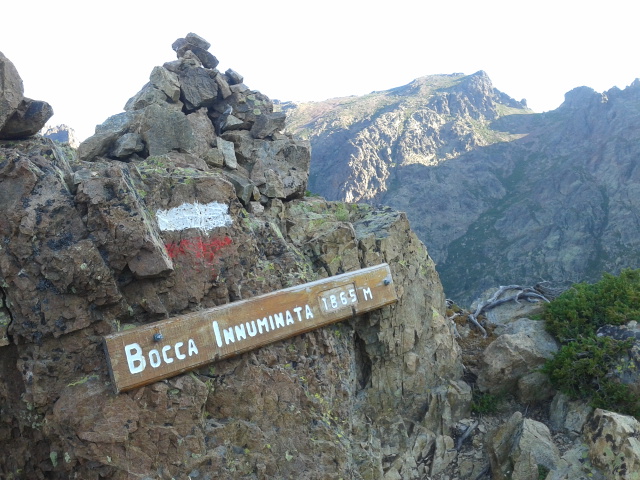 Monday 17th June – 2013
"A man without a woman is like a tree without leaves and branches." Corsican Proverb
First day! I'm sitting on a broken garden bench that wouldn't look out of place in a French country cottage. Below me the land falls away steeply to a mass of green foliage as verdant as a rainforest. I can hear, rather than see, a stream tumbling by in the middle. It sounds like heavy rain. Above this, rays of the early sun cut through the vegetation and insects turn lazily in the light like drunken dancers. Behind me, on cut terraces leading up to the gîte, other walkers are busy packing up their gear. I slept alone on the bottom terrace. I was the only one without a tent.
Birds are singing gaily and a blackbird has just scuttled by in search of breakfast. I heard a child's cry last night over dinner and immediately was homesick for my own baby. The barman at the brasserie where I stopped for lunch commented that it was Father's Day. So it was. He told me proudly of his five month old son. I was eager to tell him that I understood and in broken French explained how it became more and more fun as they got older. But I was alone just then, a stranger in a strange land, while his wife and son were outside, waiting for him as he packed up.
I swam after this on my one hour's sleep and belly which had seen little food in two days. It was the same place I had swam at eleven years ago when I was young and had the dalliance with an American girl travelling the island. It was a mucky little beach with debris and rubbish floating in the water, but otherwise the sea was clear and inviting. No one else was swimming which is not unusual in the Mediterranean in June. I thought nothing of it. The beach shelved away in pebbles like England's south coast but was clear to a great depth. I could see fish and, at intervals, the small red shapes of jellyfish. I swam backwards and forwards along the beach. I was so buoyant in the salt water which was lovely but which I would have liked a touch cooler. I felt a sharp shock and knew it had been a jellyfish. I continued. How bad could it be? It was on the forth lap that they really got me – on the delicate underside of my arm and across my forehead. I stumbled out of the water. The pain was excruciating and became unbearable. A squat bald man suggested I rub hot sand on it which I did, but the pain lasted for two or three hours – probably the most exquisite I have felt, like being anointed with acid. Back home I looked up treatment for the stings (the creature in question I discovered was called a Mauve Stinger) and one of the "don'ts" was rubbing hot sand on the wound. So much for local advice.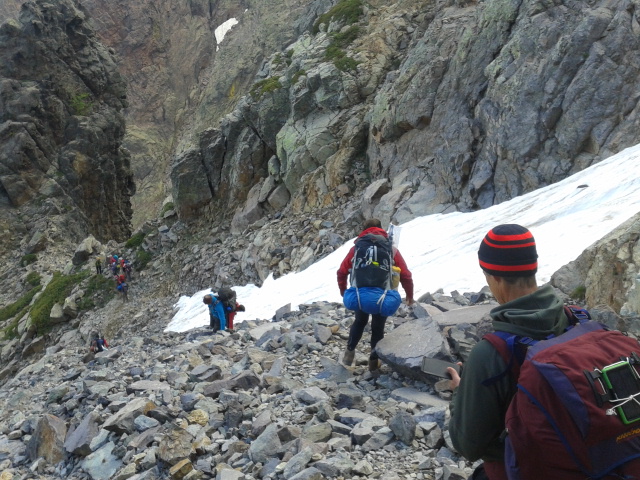 Tuesday 18th June – 2013
"With audacity one can undertake anything, but not do everything." Napoleon Bonaparte
A bad start to the day. I've lost a diary. It was almost full. At least, I suppose it documented only one day of the trip. I've also managed to ruin a complete roll of film on the lomokino. The teeth obviously didn't bite the film sprockets. When I took the back of the camera off the whole unspooled roll was sitting there. So that hour of setting up and roping someone in by the beautiful rock pool is lost. All gone.
This place, the Refuge Paliri, is surprisingly busy. Tents everywhere, swarms of hikers, mostly French and German – red raw middle-aged men, thick set, attempting to do battle with decline, women a mixture of sinewy older ones as tough as old mutton and plain heavy haunched younger ones. There are lots of couples. I can't think of anything worse than setting out on a journey like this with Danica. It may have been different if I had married someone else but still, there is little romantic about slogging twelve miles in roasting mountain heat, wet with sweat, covered in sores, scrapes and mosquito bites. Would you really want to share this with your most dear?
People have been setting off since five this morning. It's seven now and I feel like one of the last. It's not a race I tell myself but there's a lot of sense in making an early start. The midday heat yesterday was perishing. Out of all the things I thought I'd be battling with – blisters, exhaustion, pack weight – the rays of the sun, so conspicuously lacking in England, was not one of them.
So much for my "easy" day yesterday. Admittedly I left at a late nine thirty but it was a ragged rag of a man that stumbled into camp at five thirty in the afternoon. Today it's eight hours rather than the six of yesterday. I hope to God it's not merely a case of getting through it, of survival, of a kind of inadvertent race with my fellows. And I hope I can pull off my creative prestidigitations and discover the truth about Florian Frederick Graf von Liechtenstein, and myself…