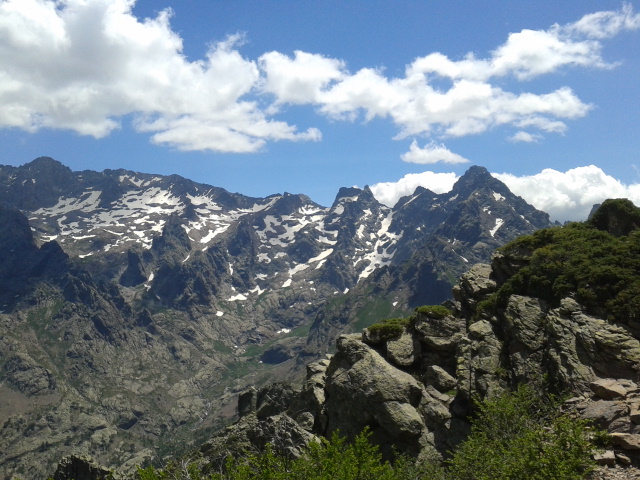 Wednesday 19th June – 2013
"Solitude is fine but you need someone to tell that solitude is fine."
Honoré de Balzac
Found it! I checked with the guardian at Paliri and by a stroke of fortune it had been handed in. It must have fallen from my bag at dinner.
I've just slipped on the hillside and two prongs of spiny broom drove a quarter of an inch into my palm. One of them I think has punctured a vein. Dark blood, almost black, spooled out. I watched in fascination but now it is throbbing terribly. It will haemorrhage no doubt. It is my right hand – the one that grips my walking staff.
Yesterday was mostly sheltered walking, which was a relief, although longer than the first day by about two hours. Today will be longer still – perhaps as much as eight or nine hours. I have the fearsome Monte Incudine to tackle first. I remember it vividly from nine years ago although on that occasion we were coming the other way. The descent to D'Asinau where I stayed last night seemed almost sheer. It was one of those places where one foot wrong would have seen you plummet into a rocky ravine hundreds of feet below.
Camping and walking has been much busier than I expected. I was led to believe that this was the very start of the trekking season. In fact as little as a week ago large parts of the northern section were still covered in snow. I met a Parisian couple who had to turn back and re-route because the paths were impassable.
"A man died last week," observed Michel, the owner of the first night's gîte, simply, but not without compassion. It was merely the mountain man's way of expressing that there are risks attendant in going to the high places. No matter how fit or brave one is, man's rules do not apply up here.
There have been a variety of people so far. Those that I have gotten to know I met mainly on the first night in Conca. There was an elderly gentleman, slight of frame but spritely, wearing a safari suit and hinged sunglasses which flapped up like horse's blinkers. I took him for a casual walker perhaps doing a few day trips. I put his age in the middle to late sixties. In fact he was seventy nine and was there to tackle the whole GR20. He hadn't done much walking since he was a lad. In the last few years he had nursed a sickening wife but since her death had resurrected this old love and had completed a number of walks including the legendary GR10 – the complete traverse of the Pyrenees.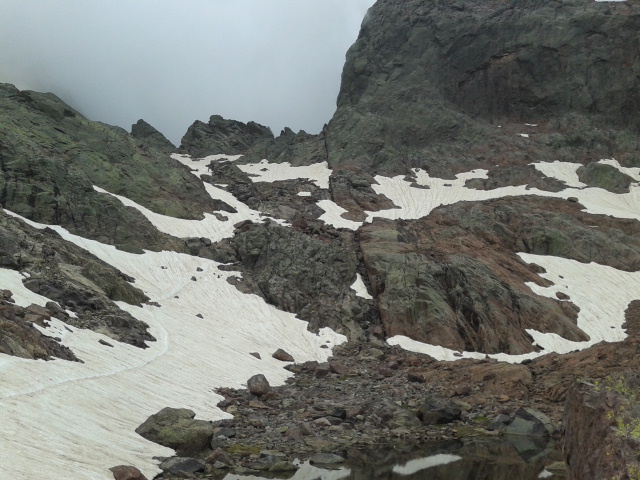 Thursday 20th June – 2013
"In the forest, I am my entire self. Everything is possible in my heart just as it is in the hiding places in ravines. Thickly wooded distance separates me from moral codes and cities."
Gaston Bachelard
Yesterday began with the climb of Monte Incudine, all 2,134 metres of it. It was a drenching effort but good to get out of the way first thing. Going up is actually a lot less scary than going down, particularly with a heavy pack. Going up you can plot your route, find your hand and foot holds. There is also the advantage in that you don't have to look down. It took two hours to summit. A horizontal chunk of snow and ice clung to the top like a general's moustache.
There was a long, gradual descent on the other side and I took malicious pleasure in responding to the anguished question from walkers coming the other way of,
"Dans quelle mesure le sommet?" with – "Beaucoup! Beaucoup!"
The landscape was properly alpine up here. The native raven circled above on the updrafts, returning every now and then to their castle crags. The classic Corsican maquis of the first day with the knotty cork trees and dense scrub was long gone. As I descended what it absolutely reminded me of was… Middle Earth! I had arrived in a valley surrounded by rolling hills, bisected by streams and covered in mighty beech trees, here sparsely populated like an English parkland estate, there thickly forested. It was beautiful – a favourite sort of landscape of mine.
The day ended when my energy had ebbed, with a climb out of this Eden and a scramble along a never-ending spur named the Punta di L'Usciolu. The sides plummeted hundreds of feet on either side and there was no one to be seen. In fact I hadn't seen another soul for more than four hours.
I slept at the bottom of a spur, ten minutes of picking a path down a rocky incline below the Refuge D'Usicolu. I got in at ten to eight, a ruined man. I had left D'Asinau at eight thirty that morning. This meagre stony camping spot was the last, liberally sprinkled with cow dung infected with a small lunatic fly and stinking badly of human excrement and urine. (I guessed campers used this far place as a latrine at busy times.) Now I know why the trekkers are keen to set off early, both to have two or three hours out of the sun's glare and also to nab the choicest camping spots at the end of the day. Activity begins before five and people are streaming out by six – at about the time I have packed camp. I can see the advantages of an early start but it would involve wolfing down a hunk of bread for breakfast, hurrying or skipping my toilette and having no time to write. It's not worth it in my opinion and anyway, it's nice to have the trail to myself. Last, always the last.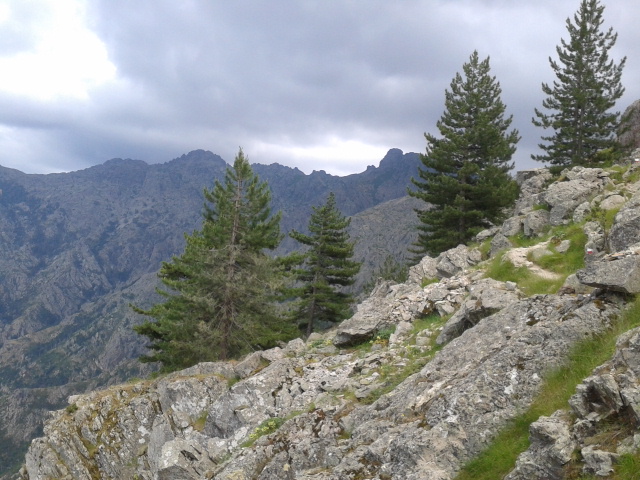 Friday 21st June – 2013
"Climb if you will, but remember that courage and strength are nought without prudence, and that a momentary negligence may destroy the happiness of a lifetime. Do nothing in haste; look well to each step; and from the beginning think what may be the end."
Edward Whymper
I froze last night. I stayed at the Refuge de Prati, which at 1800 metres, was only a couple of hundred higher than the previous night's. Ironically too the camping was ample and luxurious – thick, green springy turf stretching out in a little plateaux. I woke at one and put my socks and sleeping bag liner in. At about four I woke again and put on the rest of my clothes that were clean. I slept in a foetal position, which on my wafer thin mattress was not enjoyable. I couldn't have had more than a few hours of proper sleep. There's nothing worse than being cold sleeping. There's generally nothing you can do. I wonder if animals only snatch a few hours of sleep – there are the elements to battle with as well as the threat of predators. Is it only man, who has built himself a dwelling, who has given himself security and follows this with the luxury of a bed, who is able to sleep for a solid eight hours? And does he need all this sleep?
Yesterday essentially clung to a ridge. Sometimes this dropped. More often, going north, it climbed. Rarely was it on the flat. The path was rocky more often than not, resembling an old animal trail over scree. It was slow going, at least for me, and descending was almost as slow as going up. You have to constantly watch where you put your feet. In order to appreciate the views you have to stop and consciously look. What views there were, were undeniably awe-inspiring. Every pause could have been a painting, a spectacle of the dramatic – made familiar by paintings, photographs and film. The familiarity is deceptive though because it makes us think we know the landscape whereas we only know what it looks like. It would take a year to know a single hillside, a lifetime to know just a child's sense of these mountains. I am conscious of all this as I pass through and the weight of my pack and the distance required to walk between each refuge focuses one's attention on pain and practicality. The mountains become merely a backdrop against man's puny endeavours. Which is probably why a lot of this I simply can't remember and still I am astonished by this. So walking this route, this GR20, is not really the best way to get to know the mountains. You might get to know yourself a little better but the mountains get to keep their mysteries. I imagine for most people this is enough and they can return to their lives with the illusion that they have experienced something out of the ordinary. And perhaps they have, but not in the way they imagined they would.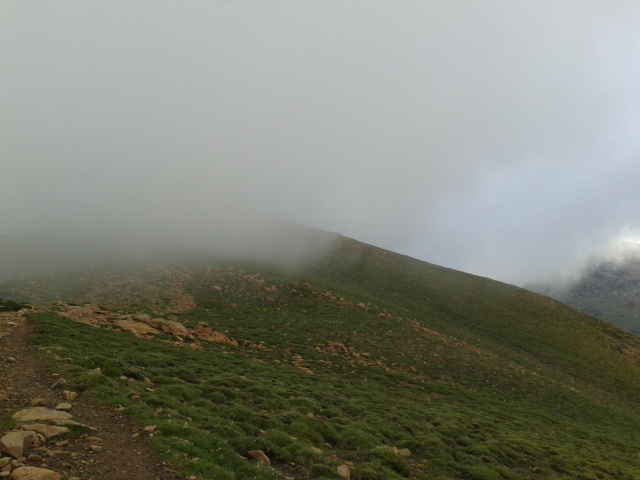 Saturday 22nd June – 2013
"All of us have to be prevaricators, hypocrites, and liars every day of our lives; otherwise the social structure would fall into pieces the first day. We must act in one another's presence just as we must wear clothes. It is for the best."
O. Henry
Yesterday was quite a beautiful walk, starting with a rocky descent from Prati into a deep valley, crossed with streams and blooming with wild flowers. It's funny, but turning a hillside can plunge you into a completely new botanical world. I would regularly move through beech woods (which favour rocky, sandy soil) to pine woods with very little intermingling. Each plant and tree favours a particular habitat and they are quick to colonise, taking the space and nutrients from would-be competitors. There is no sentimentality here, no "oh let's just share this space;" it is a programmed fight for survival. It got me thinking, particularly when the word "colonised" dropped into my head, of man's own movements and appropriation of land, how different nations have formed on the basis of shared race, culture and values – is it very different from these hillsides of forest trees? Of course there are different aspects at play but at bottom doesn't it come down to the same thing – survival – even if this means killing your neighbour from over the hill?
It is seven, there is a stiff breeze blowing but at least there is a little warmth in the sun's rays now. I am breakfasting on a wooden pallet I found leaning against the end of the Bergeries d'E Capanelle where I stayed last night (actually on the rocky slope of the refuge). There are tables and chairs but then I would be forced to endure the early morning campsite hubbub. There is a lot of heartiness which I find irksome, partly because I am alone and it reminds me of this fact, how far I am away from friends and family, and partly because the heartiness is in French which is doubly excluding owing to my faulty grasp of the language; there is possibly too the Anglo Saxon sensibility which finds Franco heartiness a little irritating, particularly when operating on a few hours sleep. But most of all I came here to escape people and am troubled to discover just how many there are hiking the trail. People claim they want to get away from it but really they want the same things they have in their everyday lives with a few differences thrown in. If I saw two people a day out here that would be enough. And no heartiness. Just taciturnity, odd silences, the occasional bout of manic laughter and a descent into the maudlin…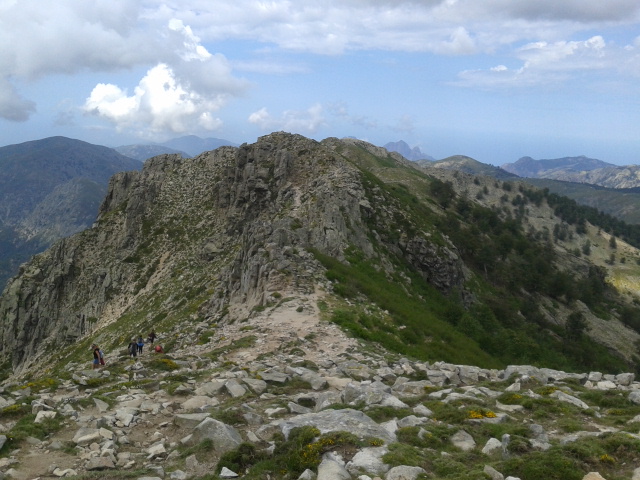 Sunday 23rd June – 2013
"Man was born for society. However little He may be attached to the World, He never can wholly forget it, or bear to be wholly forgotten by it."
Mathew Gregory Lewis
I'm in civilization at last! And when I say civilization I mean the village of Vizzavona with its two restaurants, two inns, a store and remarkably, a railway station. I camped opposite this in a rough little campsite run by an old school gauloise-smoking type in an open-necked black shirt.
My excitement had been building all day at the prospect of entering this little hamlet, both because it is recognised as the approximate middle of the route and because I intended to spoil myself with a meal at a restaurant. I was looking forwards to dining on my own but then I got chatting to a couple of American lads who I had seen bedding down the night before. They were Texans and I've always quite liked Texans; at least the ones I've met. They were good lads – scarcely more than boys – friendly, but not overbearing, and fairly intelligent. I took them for college boys but in fact they were qualified teachers in the same school in San Antonio. They invited me to dine with them and we ate some fine Corsican fare at the inn I had stayed and eaten at eleven years before. Yesterday I was lambasting heartiness but last night I sailed perilously close to it. I realised, by degrees, that I had missed human company and I gabbled away happily at a giddy intensity. The going without and the hardship (if you can call it that) create in one a joyful thankfulness for the small things – the chance to communicate for a few hours at an equal level, a meal at a restaurant, a coffee at a table.
After the restaurant emptied out and I was left on my own, a Corsican band started up across the road and the Romanian waiter brought me two glasses of the local liqueur. I wrote cards to my wife and parents, finished a story by F. Scott Fitzgerald and was entirely happy. My world was small for the moment. When I wandered into the street I could see the shiny faces of the customers clustered around in the restaurant opposite watching the band who were obscured by their position and the lowered blinds. The moon was full, giving out a light that was as powerful as street lamps but much softer and full of promise and romance.
Monday 24th June – 2013
"M. de Charlus made no reply and looked as if he had not heard, which was one of his favourite forms of rudeness."
Marcel Proust
A howling wind picked up this morning, blowing down from the snow-capped ramparts of the mighty Monte d'Oro. Refuge de L'Onda was nestled at its foot in a green valley lush with thick grass. It made welcome camping for this reason, a respite from the usual stony ground but it was exposed and the air hummed with the rattling of tent canvas as the wind soared down.
The guardian is also a farmer who keeps a large herd of mountain goats from which they make some fantastic cheese. He was a squat, unsmiling brute who made an art form out of surliness and seemed to hold this in high esteem as a gruff mountain Corsican. It seemed to amuse his guests but I thought if you're asking people to part with money then there's a duty to treat them decently. He trod on my bare foot as he was passing in his heavy mountain boots. I'm sure he realised but instead of apologising or even just lifting his foot, he seemed to deliberately press down with his toe. I gasped in pain but he lurched on with an armful of greasy plates which he banged loudly into the dishwasher. I could have murdered him and in fact fantasies of beating him senseless lulled me to a sweet sleep.
Yesterday was a spectacular walk and also involved some of the most challenging climbing so far. The path led gently out of Vizzavona through beech woods silent apart from the gurgling of the River L'Agnone which coursed and splashed over huge granite boulders. I then climbed through a valley, following the river which gradually shrank in size. The trees eventually petered out, leaving only bare rock and alder scrub, until suddenly the valley ended in a vast barren wall of rock and slipping scree. The river was reduced to several small streams and further up, trickles, dripping as melt-water from huge dirty basins of snow which still clung to the upper reaches.
The climb was unremitting. The path died out and soon became a scramble across vast bare faces of rock. The summit, a mountain in all but name, was known as Pointe Muratello. I had climbed 1500 metres that morning! The climb down though on the paths of loose dirt and scree, tumbled and churned by walkers, goats and mules and washed out by the melting snow, was even more taxing – as the descents seem to be. I fell several times and it was a cursing dust shrouded figure that limped into L'Onda at ten minutes to five.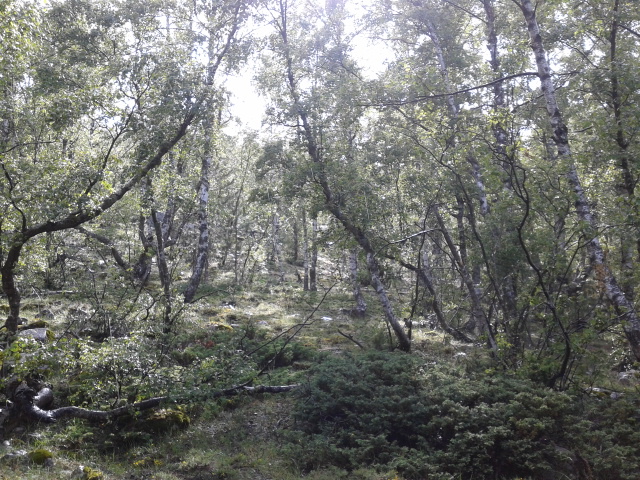 Tuesday 25th June – 2013
"I love to be alone. I never found the companion that was so companionable as solitude."
Henry David Thoreau
I'm sitting in the cramped dining room of the Refuge de Petra Piana. People are swarming all over the place, preparing breakfast out of the cold of the morning. I'm surprised at how cold it's got but I guess I shouldn't be – we're almost two thousand metres up. It shows my general lack of experience of mountains.
The sun has just burst out across the land – a bright yellow morning light. The coffee simmering on the hob steams in a ray which falls slantways from the window. The bustle around me is cheerful and homely and I am lost in a babel of languages, none of them English. Each refuge has a different character, usually reflecting the personality of the guardian. Here the guardian is a white haired old gentleman who looks at you over the lenses of his black-framed spectacles which are perched on the end of his nose. He is content to let the trekkers do their own thing without interference.
I relented last night and took a tent. It was already cold when I reached camp at an early half past three. Low cloud blew up from the valley and obliterated the sun. The temperature dropped instantly and the wet sweat on my tee-shirt chilled my body. The refuge, perched high on a slope of bare granite, seemed to float in a sea of cloud. The atmosphere was uncertain, sombre and a little sinister.
The day had been beautiful though. A descent into a valley involved another walk along a rolling, roiling river, bounding over rocks, scooping out pools the colour of turquoise and otherwise charging on with a relentless furious energy. I stopped by one of these pools to have my lunch but before doing so, stripped naked and plunged in. The water was like ice, the coldest I've experienced and I lasted about thirty seconds. I crawled back onto a boulder and warmed myself in the sun like the numerous lizards which had crept out to take a look at this scale-less interloper. I shared some tuna with one which he gulped down happily. These breaks, for food, for rest, for silence, are amongst the happiest times for me on this trip, a lull from the forward march, of getting to the next post, in short, from all the mechanical things of being man which are our least interesting aspect, and an opportunity to submerge oneself in the land and environment and become, for a few moments at least, merely an animal, existing.http://www.mountainblog.eu/walking-the-gr20-part-3/
Continue to part 3 >