(continues after part one and part two)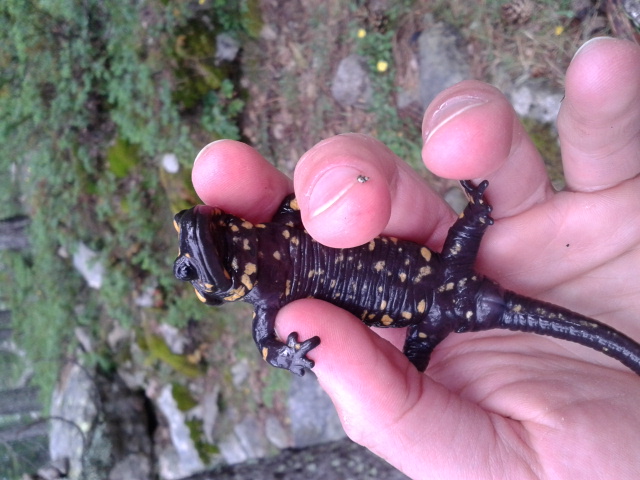 Wednesday 26th June – 2013
"You must not fear death, my lads; defy him, and you drive him into the enemy's ranks."
Napolean Bonaparte
Yesterday I had one of the most physically terrifying moments I can remember. It occurred at about half way through the day at the Brèche de Capitellu, which is a gap between two spires, and at 2,225 metres, the highest point on the main route.
Below lay a long sloping snow slope or névé. I had been crossing these all morning but hated the experience. The snow was mushy in some places, hard in others. I did my best to place my feet in the footsteps of others but sometimes these had disintegrated to a slippery trail. At one point, feeling unsafe, I actually climbed round a short névé via a rock-wall. I felt doubly unsafe doing this though because of the size and weight of my pack, which at the slightest slip threatened to heave me off the mountain.
I was praying that these névés were over. I had just crossed what I thought was the worst of them with the aid of a cable which was bolted to the rock. Which was fortunate because on the other side the mountain plunged hundreds of feet down to the Lac de Capitellu. But this further side of the Brèche was much, much worse. The path across the névé – and when I say path I mean slushy semi-frozen footsteps in the snow – cut down across the slope at an angle of forty five degrees. As with "normal" rocky terrain, it is easier going up. Below the path the mountainside cascaded down in an icy slope of perhaps a hundred feet, ending in a tumble of granite boulders poking from the snow-bed. If I slipped I would be killed or smashed beyond repair.
I tried going backwards but my shoulder bag kept swinging down to block my view. I tried forwards but after a few steps I felt so lacking in confidence that I went back. Three Frenchmen passed me.
"Shall I go backwards or forwards?" I yelled.
"We're not professionals," the last one shrugged. "Forwards I think."
It didn't help that the one who replied looked pretty insecure himself as he felt himself forwards with two walking poles.
I scanned the way round, looking to see if I could possibly pick my way down by the rock-wall. It may have been possible without the pack but with it would have probably landed me in an even more extreme situation. I was in a terrible position. Would I go back and admit failure when everyone else seemed to be getting past? Or would I, to coin a phrase, "feel the fear and do it anyway"?
In the end I opted for the latter, reasoning that it could be done. What I realised I needed to do was to cut steps to prevent myself from slipping, so painstakingly, a step at a time, I used the hard heel of my boot, and sometimes my walking staff, to kick out ice so that my boot would tread flat. I slipped once, not helped by the well-intentioned advice of a Dutch couple behind, but eventually I got to dry rock and after another hour trudging down the mountainside, got to flat ground.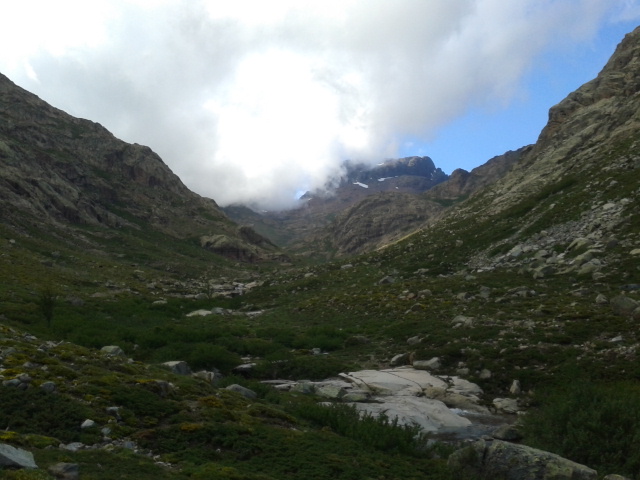 Thursday 27th June – 2013
"Rocinante was of more value for a true traveller than a jet plane. Jet planes were for business men."
Graham Greene
The valley was dead flat at the bottom – a broad green plain of springy turf pockmarked with pozzines, the strange little alpine pools known to the area. Ranged all around were rocky mountains, looking majestic in the early morning light.
The bergerie which sat on the low hill overlooking the scene was called de Vaccaghia and, unlike many of those that I had passed which were either semi-abandoned or had become down-at-heel gîtes or shops catering for walkers, this was still a working summer farm. I bought cheese from where it was made – wet goat's cheese wrapped in paper, rubbery and soft like a newborn. The "shop" was a small stone room, stacked with bottles on wooden shelves, handmade cupboards and a long refectory table and benches. Like all the mountain Corsicans I had met that still lived on the land, the proprietor was short, sun-blackened, taciturn and unsmiling. I didn't mind. It must be a hard life, with winters that are unrelenting. Whilst trekkers and tourists no doubt provide a valuable source of income, they must create a superficial and zoo-like element, with the outsiders coming to gawk at the mountains and their inhabitants, experience the "rawness" of nature and then return to their comfortable existences.
Outside a rider was loading a mule. A large pannier rack supported a big wooden chest on either side over which were slung two waterproof sacks like vast sausages. Several dogs milled round in anticipation. These were the typical Corsican breed I had noticed at almost every refuge – rangy wolf-like beasts with rough thick coats of black and orange, giving them a passing resemblance to the wild African Hunting Dog of the savannah.
The rider saddled his own horse, and with the reins held loosely in one hand and a long rope attached to the mule, he set off up the rocky path at a determined amble. The dogs charged after him in joyful pursuit, skipping round the horses' hooves and leaping over rocks. A scene, remarkably out of Europe in the twenty first century but one which could have been played out in almost any century bar the last, for the last two thousand years. The rocky setting and glowing sun somehow reminded me of Don Quixote.
Friday 28th June – 2013
"Those who travel to mountain-tops are half in love with themselves, and half in love with oblivion."
Robert Macfarlane
It took me nearly two hours to trudge up the steep rocky side of the Bocca Minuta from the Refuge de Tighjettu. Rain was forecast for the afternoon and dark clouds were massing over the spiny ridge above. I wanted to cross the notorious Cirque de la Solitude before the clouds burst and steal an extra day on my timetable so as to climb the mighty Monte Cinto the next. I was already ragged from the long walk from the Refuge de Ciottulu di I Mori in the morning.
"You want to climb the Cirque today?" Inquired the barrel chested guardian of Tighjettu, raising his eyebrows.
It was after midday when I arrived and asked for a tin of sardines.
"Eat then go!"
A crossing of the Cirque would take two hours, but it was another hour and a half to climb up to the lip and a further two and a half hours to get to the next refuge after this. Six hours more to do and I had already done three and a half. Feeling uncertain I questioned a couple of Brits who had just made the traverse.
"Ask Raphael – our guide," one suggested.
Raphael, square jawed and the colour of iron ore, made a cautionary gesture.
"Better go in the morning. Go when you're fresh – at six. Rain is coming now."
But still I went and each weary looking group I questioned as I passed would shake their heads in disbelief that I was going to tackle the Cirque so late.
When I got to the top of the crag I could see a lone figure slumped on a stone emptying pebbles from his boot.
"How was it?" I asked.
He was pale and his hair was matted with sweat.
"Okay," he gasped.
To explain, the Cirque de la Solitude is a sheer rocky crater which plunges hundreds of feet down. The GR20 runs across it, up and down and the traverse has become an iconic and formidable part of the route. The name is intimidating to those that know it and some walking the trail baulk at the crossing. A week before I arrived a man died making the traverse. Up to a few days ago ice and snow made it impassable to the ordinary walker.
I crept up to the lip of the beast. Jagged rock sheered away into dense cloud. A pinnacle rose to the left. I couldn't see more than fifty feet or so. The last couple of figures lurched from the mist. It looked like the gaping mouth of hell. There was no one else down there. I would be alone in the most dangerous part of the route. I thought of my family. Was this a risk worth taking?
The pale boy had been joined by his three friends – the last – and all as pale as each other.
I had made my decision.
"I think I'll come back in the morning," I murmured.
I was relieved even though it felt a little like failure. Today though I crossed the Cirque and live to write another page…
Saturday 29th June – 2013
"Strangeness is a necessary ingredient in beauty."
Charles Baudelaire
A thunderstorm in the mountains is a terrifying thing. There was one the other day when I was tramping through a forest – fortunately – I would hate to have been stranded on a lonely hillside; a conducting beacon. It really did sound as though the gods were angry and it was easy to see how in earlier cultures appeasements and sacrifices were made to still these surging phantoms.
The rain came heavily, falling in big drops which quickly pooled in the dry soil. I passed through a birch forest broken up with vast boulders of granite which glistened in the light like quicksilver. The whole nature of the place changed in the wet. It developed an almost magical character. The water brought out the smell of the earth and the leaves. I suddenly felt at home – I was walking through England for an hour or two.
As if in answer to this changed atmosphere I spotted a strange creature struggling across the path. It was pitch black with lightning flashes of orange and walked with an uncoordinated swinging gait like a foal taking its first few steps. I had seen pictures of it in books but never thought I'd see one in the flesh. It was a fire salamander and looked like something out of this world.
Later, climbing a high saddle from a deserted valley as the light was fading to dusk, I saw a movement on the hillside about half a mile away. It was a wild deer. It started a rush and suddenly I could pick out ten or twenty more. They looked like rocks tumbling horizontally across the scree. They were so perfectly coloured to their environment that as soon as they stopped moving they completely disappeared.
I've gone down with a stomach ache, the same thing I had a couple of weeks ago. I have no desire to eat anything although this is precisely what I have to do in order to have the energy to finish. The toast I have made tastes like cardboard. I feel weak and listless, in no condition to carry a twenty-four kilo pack across several mountains. Only three days to go though. Hopefully I can summon the strength…
Sunday 30th June – 2013
"I love those who can smile in trouble…"
Leonardo da Vinci
The worst has happened. The stomach ache which started the night before last got progressively worse. Although I had diarrhoea I started walking. What else could I do if I wanted to get my flight on time? I had no strength. I plodded along slowly like an old man. The going was steep, included some technical climbing which needed strength and concentration. I kept pausing on the slopes. Three groups passed me including the Swedes who gave me some rehydration tablets. I was now having doubts that I could actually finish the day. I sat on a rock, dejected and disconsolate, and threw up my breakfast. The ugly sound of the retching echoed through the canyons. I was dizzy. I knew I couldn't do it. I would have to go back.
I only just made it to the refuge. I was going to take a tent but the guardian gave me my own room. I pulled out my sleeping bag and crawled into bed. I was there for most of the day. I've never been so laid out. I just lay and dozed fitfully for hour upon hour, rolling over occasionally to take a gulp of water.
I also had the pressing dilemma of what to do about the trip. Admit failure three days before and have the sting of this hang over me, prompting me to try the whole wretched enterprise again sometime in the future? There was also the option of trying to re-book my flight. Insurance would have to approve and, as I found out, they would need a medical certificate confirming I was too ill to travel. But there was no doctor in Haute Asco. I would have to travel to Bastia or Corte but of course I was too sick to do this. I was going to go today but have discovered buses are not running properly because it is the first day of the Tour de France, which is starting, for the first time, in Corsica!
I am worried about leaving Danica for even longer than planned, worried about the potential price of a new air ticket if I am not able to claim on insurance, am worried about even being able to get a new flight. If I left on the trail today I could just about finish if I really hammered it. But do I have the strength? I'm only just recovered and ate nothing yesterday. I would have to walk one and a half stages if I was to finish Monday night. The worst of things. The worst of things.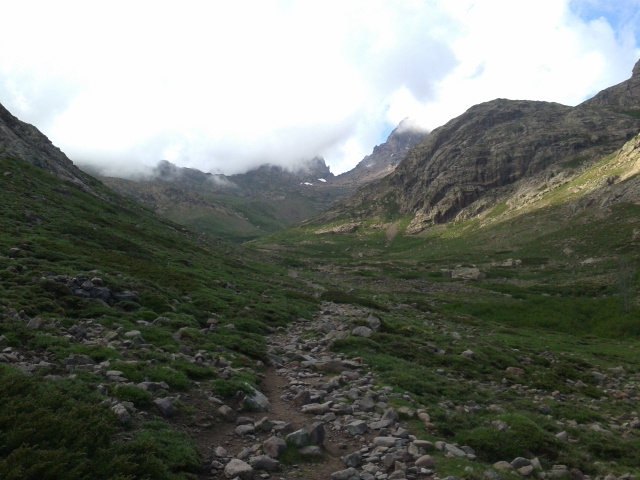 Tuesday 2nd July – 2013
"And once the storm is over, you won't remember how you made it through, how you managed to survive. You won't even be sure, whether the storm is really over. But one thing is certain. When you come out of the storm, you won't be the same person who walked in. That's what this storm's all about."
Haruki Murakami
I've never been so glad to finish something in all my life. As it happens I did have to walk on Sunday without having got all my strength back. I was hoping to stay another day in Haut Asco, much as the prospect of staying in that tainted place was depressing. But my mother was unable to find any available flights until the following Tuesday. This was impossible! I needed to get back to my family, for my own state of mind as much as to be present for them. So at a quarter to twelve on Sunday morning, with the sun at its hottest and my body at it weakest, I left the refuge.
It was a tough day's climb, consisting of a steep ascent and steep descent – probably my least favourite combination – but I went surprisingly quickly and arrived at the Refuge de Carozzu at not much after four. I found the campsite, which shaded under pines, infested with ants, so for the third night running took a place in the hut. This was heated to a soupy temperature by all the bodies, despite me wedging the door open. The chorus of snoring was almost unbearable, particularly by one oaf who I was tempted to shake into consciousness, but I fought my way back into sleep and was up with the hill runners (if that's what they call them out there) at four thirty. If I was going to finish the last two stages in a day I needed to get an early start.
In fact I felt remarkably chipper in the morning. It was a beautiful day but the mountains were still in shadow and I was able to tramp in coolness for the first few hours. I went high again, climbing along a toothy ridge for most of the morning. Despite eating nothing but bread and honey and dried fruits I was feeling fairly fit. If I had overnighted at the Refuge D'Ortu di u Piobbu which I reached at an early one thirty, all would have been well, but I had another stage to do, the final five hour descent into Calenzana.
It was from here that my guts started to remind me of their presence, churning and knotting and writhing like sea snakes. Perhaps it was the raw apple that set them off. Perhaps it was protest at the exertions I was putting my body through. Whatever the case, the next five hours were some of the hardest I have spent.
I had diarrhoea again about half way down. I simply threw down my pack, stepped off the path and pulled down my pants in full view. My body was packing up. There was nothing inside to fuel it and even water at this point felt like a fire bomb exploding in my innards. Despite it all I went quickly, holding myself together on nothing more than willpower and downhill momentum. It was a quarter to seven when I reached Calenzana. I had been walking for nearly eleven hours solid. My guts exploded on arrival.
Wednesday 3rd July – 2013
"For the stone from the top for geologists, the knowledge of the limits of endurance for the doctors, but above all for the spirit of adventure to keep alive the soul of man."
George Mallory
I realise I am not a mountain man. It struck me a week or so in. I like the idea of them. But the reality is very different from a photo-book image. Mountains are beautiful, awesome, wonderful but they are also overwhelming, intimidating, terrifying. Being up on the crest of one reminds you of how small and feeble you are. Whenever I was high, despite the thrill, the sense of achievement and the views, I was hankering to be low. I felt most at home on the valley floor, with level ground beneath my feet, trees at my elbow and perhaps a river too. I liked to see the mountains ranged round me, to admire them from a distance. No, I am not a mountain man and the realisation is slightly disappointing. Yet it is not really surprising. To be a real mountain man you have to be born in them, it has to be in the blood. How many of the great climbers have come from the coast or the cities or even level pastureland? Many of the people I met up there came from the mountains – from the French or Swiss Alps – and it was interesting talking to them because without affectation they clearly felt at home there – with the rocky paths, the snow and the feeling of smallness.
No, I am not a mountain man, but then what does that make me? I was craving the sea when I was up there. When I booked a room at a hotel in Calenzana I left my window wide open so I could hear the sounds of the town – traffic, voices in conversation. It was comforting somehow. And yet after an hour or two in Calvi, the large town in the north west where I fetched up, I was wanting to escape. To where? Ah, that is the question! Home, perhaps. Yes home, where my loved ones are.
The other thing I realised is that you do not conquer mountains. The concept is ridiculous. Man is constantly wrestling with himself, trying to better his achievements or that of his peers. A mountain is a mountain, beyond ideas of success or failure. These are human concepts, finite and calculable. In this sense a mountain is infinite, or at least infinitely mysterious. Man breaks himself on the rocks for reasons that have nothing to do with the mountain itself.
In fact I realised that it was one of the great failings of the walk that it pitted itself against the mountains in a sense, that it superimposed a human idea on a raw state. To really understand the mountains, or at least to begin, because perhaps to really understand is beyond any of us, one might have to start with being still, with listening, hearing, feeling, and only then with walking.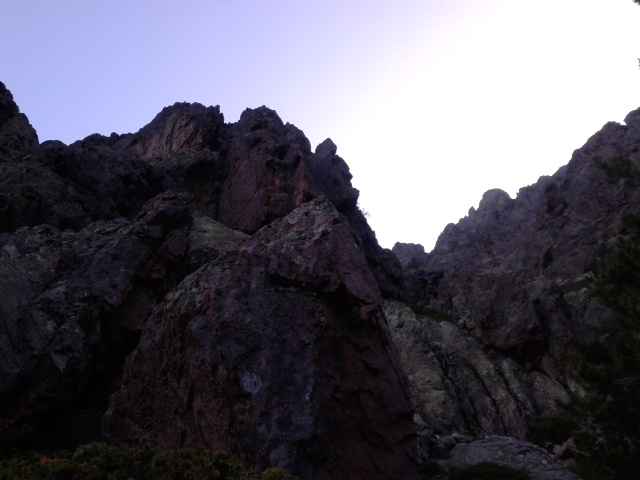 Epilogue
"By the one God Sancho, no more proverbs."
Miguel de Cervantes Saavedra
So I did it in the end, despite the sickness which threatened to capsize my plans. As horrible as it was at the time, looking back there is a victor's glow of satisfaction in having come through and mastered it and the story is richer for the telling. The greater the trial and tribulation the greater the stock for the story-teller's art.
I caught my plane and returned to my family. That afternoon I went to pick up my daughter from the child minder's.
"Who's that little girl standing in the corridor? It looks like Daisy but not entirely as I remember her. It can't be her."
"Who is that strange man standing in the doorway? It looks a little like Daddy but his beard is wilder and greyer than I remember. And he is so thin and sunburnt."
It was a strange and unexpected greeting for one so charged and anticipated. But it had been eighteen days and eighteen days is a lifetime for a two year old. And she really had changed. So had I. I was a stone lighter, all angles and sinew, and my skin was the colour of burnished copper. The town clothes, which I was unused to, hung awkwardly on my shoulders and hips.
But the bigger change was inside. Mentally and imaginatively I was still in the mountains. It may have been a mere eighteen days but each one was so packed with incident and change that I too experienced the stretched days of childhood. I noticed this most keenly when I went to the party of a friend. I left at a run an hour later. I couldn't stand the dissembling and small talk. I craved silence.
And what of the film? Did I manage to conjure the last days of Florian Frederick Graf von Liechtenstein? To my absolute horror I discovered that all the film was spoiled. The camera held a technical imp. Which meant only one thing. That I would need to return the following year…
Harold Chapman