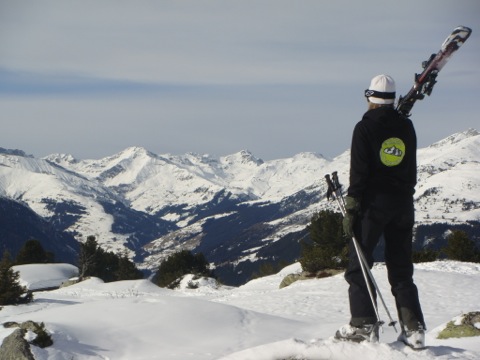 Want to experience an EPIC day?
Respect the Mountains has won a grant from the European Outdoor Conservation Association (EOCA), funded by The North Face Explore Fund™, for a pilot youth program called EPIC: 'Exploring Peaks, Inspiring Conservation'.
The goal of EPIC is to provide impactful entry-level mountain awareness training for youth of twelve to sixteen years of age. This training will encompass mountain awareness education, hands-on conservation work, and new outdoor skills development whilst exploring these fragile mountain environments.
The one-day pilot program will be carried out on 21 February 2014 in Samoëns, France. Youth attend a mountain education workshop based on the '7 Ways to Respect the Mountains', then provide voluntary service to a local conservation issue, such as a cleanup of an at-risk mountain slope or riverbed. They get treated to a hearty mountain lunch and can then develop new outdoor skills in the afternoon by choosing one of three clinics: free ride skiing, basic avalanche awareness training, or a snowshoe tour, all with professional mountain guides.
Costs and Registration
EPIC costs 10 euro's, or 5 euro's if you have a valid ski pass for the area. This includes a lunch, clinic and a movie of Xavier de le Rue to finish the day. All proceeds go to EOCA and Respect the Mountains.
Schedule of the day

08:30 Gathering at 'le kiosque' – opposite the ticket booths of Grand Massif Expresse
09:30 Opening at la salle hors sac
10:00 Start morning activities
12:30 Lunch at la salle hors sac
13:30 Start afternoon program
16:00 Back at la salle hors sac: free ride movie with Xavier de le Rue
17:00 Finish of the day
Meeting point
8:30 'le kiosque' opposite the ticket booths of Grand Massif Expresse
GPS-coordinates: N 46° 0.768' E 6° 72.129'
Basecamp EPIC :
Salle hors sac @ Samoëns 1600 To SIGN UP please go to: http://www.respectthemountains.com/inschrijfformulierEpic.aspx If you have specific questions or want to register a group of people please contact aukje@respectthemountains.com . Bring suitable clothing, water and sunscreen. Participation at your own risk.

For more INFORMATION please contact:
http://www.respectthemountains.com/Epic
https://www.facebook.com/events/201561193364232/