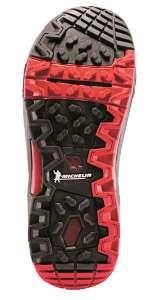 The famous and friendly Michelin Man® is bringing big tread and traction rubber to RIDE Snowboards' boots this season. RIDE's exclusive partnership with tire-industry leader Michelin® is taking what can be done to the sole of a snowboard boot to the next level.
The MICHELIN Peak Sole® offers cutting edge boot sole design that capitalizes on Michelin® tire material technology to offer premium tread stability, durability, and adaptability. Featured on RIDE's new Trident and Insano boots, the Peak Sole offers first-class grip on a variety of ice and snow conditions. The Peak Sole keeps feet warm in even the coldest conditions with its proprietary outdoor compound built to resist temperatures as low as minus 40. The Peak Sole incorporates two different tread patterns – MICHELIN Mud® and MICHELIN Country Mud® – to bring the promise of aggressive traction to the snowboarding world.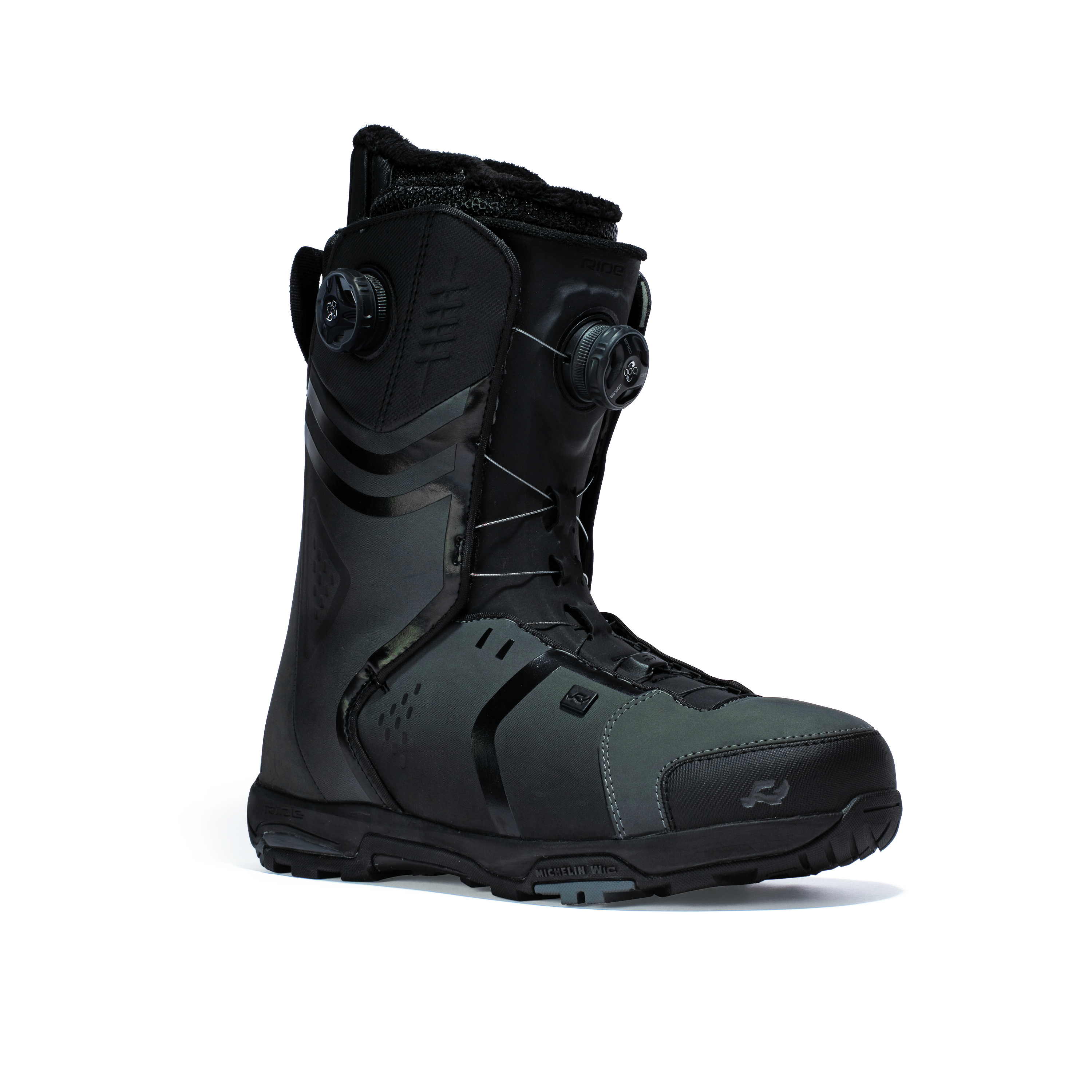 This year, the new Trident boot features RIDE's exclusive Slime Tongue™ designed to reduce breakdown in forward flex. The Slime Tongue™ is injected with urethane to reduce leg fatigue by providing accelerated rebound and dampening. The Trident also features RIDE's proprietary Tongue Tied™ Boa® Closure System and Boa® Focus Lacing with Closer™ Lace Guide to fit securely around the ankle and hold in the heel – all while maintaining critical comfort levels. The speed and ease of the Boa® lacing system is unsurpassed and ensures an even, tight lace fit every time.
The Insano boot takes advantage of the IN2GRATED™ Construction, which boasts a lightweight feel and shorter overall boot length. Its Intuition™ Dream Liner is made with multi-density foam in a supportive skeletal structure for optimal performance. An antimicrobial coating ensures that boots remain stink-free even after a full season of hard charging. Like the Trident, the Insano includes RIDE's Slime Tongue™ and Boa® Focus Lacing with Closure™ Lace Guide.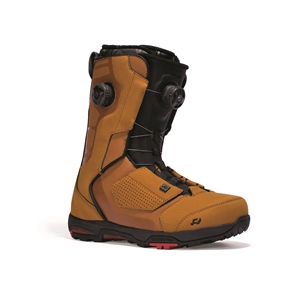 Drivers trust Michelin® tires to carry them safely over snowy mountain passes, and now snowboarders can trust the Peak Sole in RIDE's snowboarding boots to elevate their experiences in every condition winter unleashes.
For more about RIDE, check: ridesnowboards.com.

About RIDE: Team driven and authentically built by passionate individuals deeply rooted in snowboarding. RIDE connects snowboarders with an inclusive outlet to express their individuality based on heritage and style. With over 22 years of snowboarding history and products that truly stand the test of time, the RIDE plan is simple; surround yourself with the most bad ass influential individuals who love snowboarding and listen to what they say. Founded in Redmond, Wash., in 1992 and currently based in Seattle, RIDE is a worldwide leader in the snowboard industry. RIDE offers a full range of snowboards, boots, bindings & apparel.
For the latest, check: ridesnowboards.com.